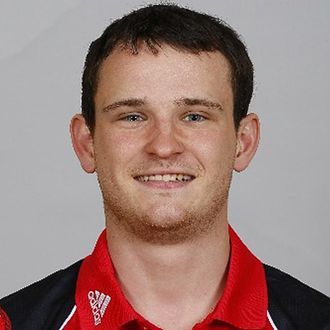 Michael Jones.
Photo: The Red Bulls
A New York Red Bulls youth soccer coach was killed in a particularly violent attack near Union Square Sunday, when a man slashed his throat and cut his ear off. Sources tell the Post that surveillance video shows Michael Jones walking with the man and arguing prior to the attack. "It was a frenzy. The guy was chopped multiple times," says one law enforcement source. "He cut the guy's ear off. It doesn't get any more personal than that." Jones, a part-time youth soccer instructor with the New York Red Bulls Youth Training Program, died of stab wounds to his head, neck, and chest before paramedics got him to Bellevue Hospital. He was found in a pool of blood in front of the Levi's store on 14th Street around 4:30 a.m. Tourists and residents responded to the gory scene by reverting to their stereotypical roles. The former gawked, the latter tried to ignore it — although that sounds hard to do.
For those stumbling home from the bars, the bloody body lying on the sidewalk looked like a Halloween prank. One witness told CBS: "We thought it was a Halloween joke or something because his phone was there, so maybe if we tried to get his phone that he'll pop up or something." After it had been established that yes, in fact, a horrific attack had taken place, the New York Daily News reports tourists and neighborhood regulars took the incident in stride:
The crime scene quickly became a tourist attraction with visitors snapping pictures of the puddle of blood, a gore-splattered iPhone, and the severed ear under a cup.

"It's kind of weird, but then again it's just kind of another day in New York," said Drew Fountain, 22, who works at the health club next door.
Police, meanwhile, are still looking for a suspect.