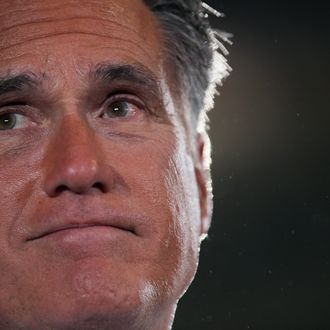 A Romnesiac.
Photo: Joe Raedle/2012 Getty Images
Both President Obama and Mitt Romney are holed up in preparation for tomorrow night's foreign policy face-off, which means the campaign trail was a quiet place today. With no new words from either of the candidates to discuss, Americans were left to continue debating the relative humor of Obama's new portmanteau, "Romnesia," which he debuted during a Friday stop at George Mason University. In response, Romney dismissed the zinger/potentially life-threatening condition as a "petty attack and silly word game." Perhaps the term (which is actually kind of clever) has grown on the Republican candidate over the course of the weekend, but the surrogates the campaign sent over to the Sunday talk shows remained unamused. 
On ABC's Meet the Press, Florida Senator Marco Rubio argued that swing voters would not be swayed by Obama's wordsmithery: "That fires up his base, people who are going to vote for him anyway," he said. "But for the rest of Americans who are trying to make up their mind who to vote for, what they're wondering is, 'Well, that's very cute Mr. President, but what are you going to do for the future?'" Rubio also had the temerity to criticize the "binders full of women" meme Romney invented at last week's debate: "This is silly outrage, it's not even real outrage," he said before making an effort to induce some outrage of his own by calling the Lilly Ledbetter Fair Pay Act "nothing but an effort to help trial lawyers collect their fees and file lawsuits."
Meanwhile, on CBS's Face the Nation, Romney adviser Kevin Madden meanly called "Romneisa" a "silly word for the leader of the free world to begin uttering." Luckily, Obama's deputy campaign manager, Stephanie Cutter, was on hand to defend the term, which she called a "playful" way to draw attention to the contrasts between the conservative stances Romney took during the primaries and the more moderate positions he's adopted in the run-up to Election Day. Really, we're just glad to have another word for "flip-flopping," which was getting really old.