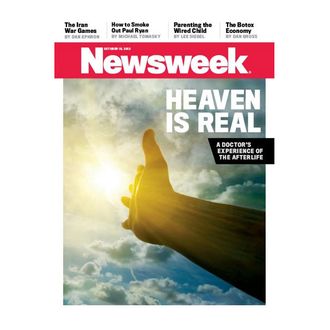 After 80 years, Newsweek editor-in-chief Tina Brown announced today that the magazine will cease print publication after the issue on December 31, 2012 and go online only in early 2013. "In our judgment, we have reached a tipping point at which we can most efficiently and effectively reach our readers in all-digital format," said Brown in a statement. In place of the physical edition, Newsweek Global will be available for a paid subscription online and via tablet, with some content appearing at the Daily Beast, which partnered with the weekly two years ago. Since then, there have been clear signs this change was coming.
Although the title's online future was apparent after the merger, the presence of billionaire benefactor Sidney Harman, who bought the magazine for $1 in 2010, delayed the inevitable. Following his death last year, the Harman family pulled out of the arrangement, leaving costs to Barry Diller's IAC. 
"The transition will happen, I believe," Diller said earlier this year. "I'm not saying it will happen totally. But the transition to online from hard print will take place. We're examining all of our options." At the time, Brown attempted to calm the panic and insisted no decisions had been made in a memo to staff titled "Scaremongering."
In the Brown era, and especially this year, Newsweek has gained a reputation as an intentional button-pusher, riling up readers (mostly online, tellingly) with recent covers on why Obama should lose, "Muslim rage," and the existence of the afterlife. It may have been a turn from the safe, doctor's office waiting room associations attached over decades to the magazine, which published its first issue on February 17, 1933, but it was not sustainable in the face of sinking ad revenue.
"We are transitioning Newsweek, not saying goodbye to it," said Brown today. "We remain committed to Newsweek and to the journalism that it represents. This decision is not about the quality of the brand or the journalism, that is as powerful as ever. It is about the challenging economics of print publishing and distribution."
That means layoffs, and most likely a lot of them: "Regrettably we anticipate staff reductions and the streamlining of our editorial and business operations both here in the United States and internationally," said Brown. "More details on the new organizational structure will be shared individually in the coming weeks and months."