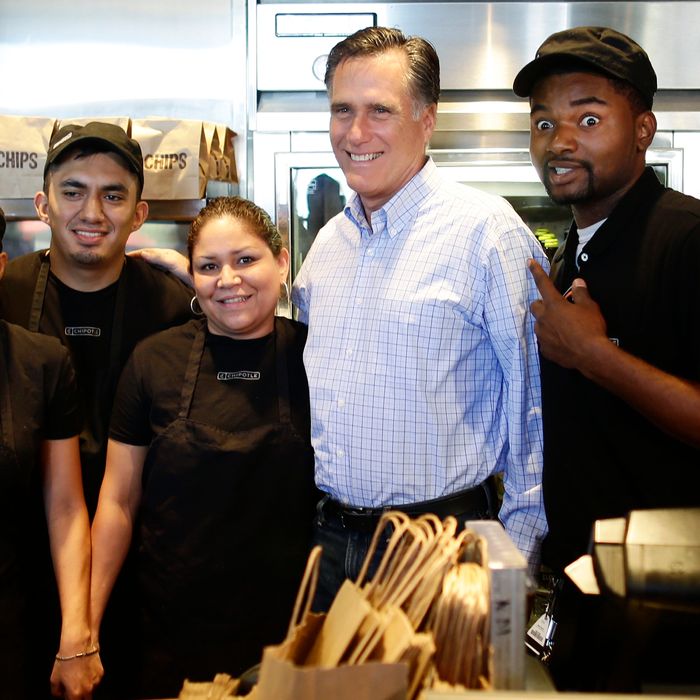 They're charging me $57 for a burrito. That seems too cheap!
Photo: Charles Dharapak/AP/Corbis
One of the mysteries of the campaign is the way that pro-Obama advertisements have matched or exceeded pro-Romney advertisements in swing states, despite an apparent fund-raising edge on the Republican side. Part of the answer is that super-PACs aren't entitled to the lowest-ad-rate benefit that campaigns enjoy, forcing them to pay higher rates. Politico also reports the amazing news that Romney's campaign itself has been routinely overpaying for its ads simply because it's waited for the last minute to reserve airtime. And not just overpaying by a little:
Voters in Columbus, Ohio, saw 30-second television ads for both Barack Obama and Mitt Romney while watching "Wheel of Fortune" on their CBS affiliate over three days in September. For Obama's team, the order per spot cost $500. For Romney's, the price tag on the order was more than five times steeper at $2,800 per ad.
This does not seem to be a one-off. The story compiles case after case of Romney paying multiple times Obama's rate for essentially the same airtime.
If Romney fails to win, somebody in his campaign is going to hang for this. It also sort of makes you wonder about Romney's promise to use his keen business sense to scrub the federal budget for waste. Being president is not like running a business. But running a campaign sort of is like running a business — certainly the element of allocating your advertising resources is. And Romney is doing the equivalent of purchasing $20,000 toilets.