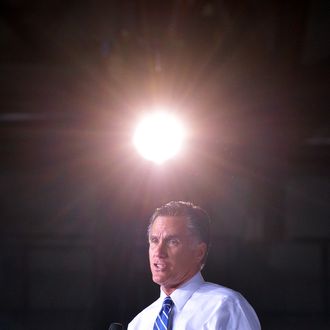 Romney's "deferred action" decision is no longer deferred.
Photo: Jewel Samad/AFP/Getty
Back in mid-June, President Obama announced that the Department of Homeland Security would implement a watered-down version of the DREAM Act, which had been blocked by the GOP in Congress. The policy, known as "deferred action," halts deportations of certain illegal immigrants who had been brought to the country before turning 16. It was a popular move, particularly with the all-important Hispanic-voter demographic. But, because of anti-immigrant pressure from the right, Romney doggedly refused to state whether he would maintain the policy as president — even though, if he becomes president, there is no way he would not have to make that decision. Finally, 108 days later and just two days before the first debate, his evasiveness came to an abrupt end in an interview with the Denver Post:
"The people who have received the special visa that the president has put in place, which is a two-year visa, should expect that the visa would continue to be valid. I'm not going to take something that they've purchased," Romney said. "Before those visas have expired we will have the full immigration reform plan that I've proposed."
Romney's explanation here seems carefully calculated to soften the blow with his GOP base: He'd keep the policy in place, but not because of sympathy for people who were brought here illegally as kids by their parents, grew up as Americans, and now know the United States as home, but because they had to pay a $465 fee with their application for "deferred action," and reneging on that would just not be right.