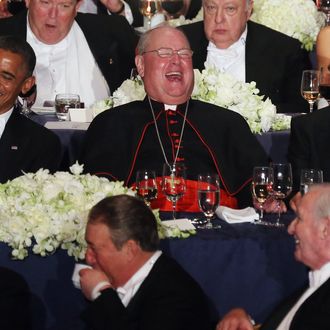 Photo: Mario Tama/2012 Getty Images
For his second comedy-related appearance of the night, on Thursday President Obama attended the Alfred E. Smith Memorial Foundation dinner along with Mitt Romney. The annual event, which is hosted by the Catholic Archdiocese of New York, is the black tie version of the uncomfortable handshake at the beginning of each debate. It's traditional for both major party candidates to attend the benefit, perform a short stand-up routine, then pretend it isn't awkward to have dinner together during the most heated time in the campaign. The seating arrangements didn't help matters for President Obama. He was separated from Romney by Cardinal Timothy Dolan, and Romney helpfully highlighted their strained relationship during his remarks. "I am sure the cardinal has no hard feelings," said Romney. "And we might get an indication of that during dinner to see if the president's wine turns into water, or for that matter if my water turns into wine."
Both candidates had some good zingers. There were wife jokes:
Obama: "I learned there are worse things that can happen to you on your anniversary than forgetting to buy a gift."

Romney: "President Obama and I are each very lucky to have one person who's always in our corner, someone that we can lean on, and someone that's a comforting presence without whom we wouldn't be able to go on another day. I have my beautiful wife, Ann, he's got Bill Clinton."
Rich guy jokes:
Obama: "Earlier today I went shopping at some stores in Midtown. I understand Gov. Romney went shopping for some stores in Midtown."

Romney [who was wearing a tux]: "It's nice to finally relax and to wear what Ann and I wear around the house."
And debate prep jokes:
Romney: "I find the biggest available straw man and mercifully attack it; Big Bird didn't even see it coming. By the way, in the spirit of 'Sesame Street,' the president's remarks are brought to you tonight by the letter O and the number 16 trillion."

Obama: "I had a lot more energy in our second debate. I felt really well-rested after the nice long nap I had in the first debate."
As well as nearly identical jokes about Andrew Cuomo's presidential ambitions: "He may be getting a little ahead of himself," said Romney. "Let me get this straight. The man has put in one term as a governor, he has a father who happened to be a governor, and he thinks that's enough to run for president?" During his remarks Obama paused for a moment, apparently noticing the overlap, but then told his joke anyway: "Tonight I am here with a man whose father was a popular governor, and who knows what it's like to run a northeastern state and who could very well be president someday — and I'm hoping it is Andrew Cuomo."
The candidates wrapped up their remarks by praising each other as well-intentioned family men, as well as our civilized political process, which allows two rivals to come together for the greater good. Though, much like Cardinal Dolan at the DNC, Romney did get in a ding during what was supposed to be his heartfelt conclusion. Romney praised the organizations hosting the event for acting "in service to the poor, in care for the sick, in defense of the rights of conscience, and in solidarity with the innocent child waiting to be born," drawing huge applause.