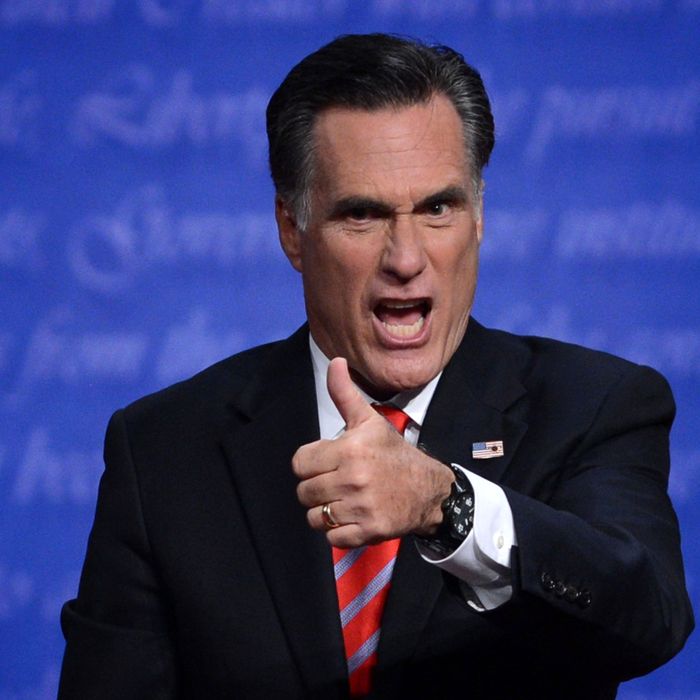 Photo: Saul Loeb/AFP/Getty Images
In recent days, the vibe emanating from Mitt Romney's campaign has grown downright giddy. Despite a lack of any evident positive momentum over the last week — indeed, in the face of a slight decline from its post-Denver high — the Romney camp is suddenly bursting with talk that it will not only win but win handily. ("We're going to win," said one of the former Massachusetts governor's closest advisers. "Seriously, 305 electoral votes.")
This is a bluff. Romney is carefully attempting to project an atmosphere of momentum, in the hopes of winning positive media coverage and, thus, creating a self-fulfilling prophecy.
Over the last week, Romney's campaign has orchestrated a series of high-profile gambits in order to feed its momentum narrative. Last week, for instance, Romney's campaign blared out the news that it was pulling resources out of North Carolina. The battleground was shifting! Romney on the offensive! On closer inspection, it turned out that Romney was shifting exactly one staffer. It is true that Romney leads in North Carolina, and it is probably his most favorable battleground state. But the decision to have a staffer move out of state, with a marching band and sound trucks in tow to spread the news far and wide, signals a deliberate strategy to create a narrative.
Also last week, Paul Ryan held a rally in Pittsburgh. Romney moving in to Pennsylvania! On the offensive! Skeptical reporters noted that Ryan's rally would bleed into the media coverage in southeast Ohio and that Romney was not devoting any real money to Pennsylvania. Romney's campaign keeps leaking that it is planning to spend money there. (Today's leak: "Republicans are genuinely intrigued by the prospect of a strike in Pennsylvania and, POLITICO has learned, are considering going up on TV there outside the expensive Philadelphia market." Note the noncommittal terms: intrigued and considering.) The story also floats Romney's belief that, since Pennsylvania has no early voting, it can postpone its planned, any-day-now move into Pennsylvania until the end. This allows Romney to keep the Pennsylvania bluff going until, what, a couple of days before the election?
Karl Rove employed exactly this strategy in 2000. As we now know, the race was excruciatingly close, and Al Gore won the national vote by half a percentage point. But at the time, Bush projected a jaunty air of confidence. Rove publicly predicted Bush would win 320 electoral votes. Bush even spent the final days stumping in California, supposedly because he was so sure of victory he wanted an icing-on-the-cake win in a deep blue state. Campaign reporters generally fell for Bush's spin, portraying him as riding the winds of momentum and likewise presenting Al Gore as desperate.
The current landscape is slightly different. The race is also very close, but Obama enjoys a clear electoral college lead. He is ahead by at least a couple points in enough states to make him president. Adding to his base of uncontested states, Nevada, Ohio, and Wisconsin would give Obama 271 electoral votes. According to the current polling averages compiled at fivethirtyeight.com, Obama leads Nevada by 3.5 percent, Ohio by 2.9 percent, and Wisconsin by 4 percent. Should any of those fail, Virginia and Colorado are nearly dead even. (Obama leads by 0.7 percent and 1.0 percent, respectively.) If you don't want to rely on Nate Silver — and you should rely on him! — the polling averages at realclearpolitics, the conservative-leaning site, don't differ much, either.
If you look closely at the boasts emanating from Romney's allies, you can detect a lot of hedging and weasel-words. Rob Portman calls Ohio a "dead heat," which is a way of calling a race close without saying it's tied. A Romney source tells Mike Allen that Wisconsin leans their way owing to Governor Scott Walker's "turnout operation." That is campaign speak for "we're not winning, but we hope to make it up through turnout."
Obama's lead is narrow — narrow enough that the polling might well be wrong and Romney could win. But he is leading, his lead is not declining, and the widespread perception that Romney is pulling ahead is Romney's campaign suckering the press corps with a confidence game.