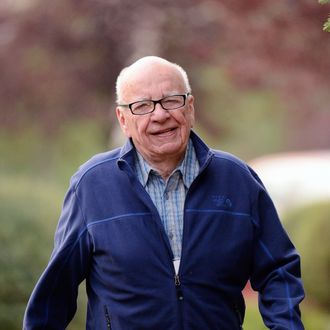 Photo: Kevork Djansezian/2012 Getty Images
The media mogul of a certain age has been made hip to what his more youthful counterparts are up to, and he is impressed: "Who's heard of VICE media?" Murdoch asked the Twitterverse today. "Wild, interesting effort to interest millenials who don't read or watch established media. Global success." Sure, the story of the Do's and Don'ts clearinghouse's transformation into an 800-person digital news and entertainment machine isn't exactly breaking news, but we guess there's a chance that Murdoch was the only old schooler to not see Page One.
He also took the time to address a more familiar topic: the election. Today, he focused on the "huge spending" underway in Ohio and concluded that, "Obama tv buying operation infinitely smarter." Of course, the bar for that is pretty low.