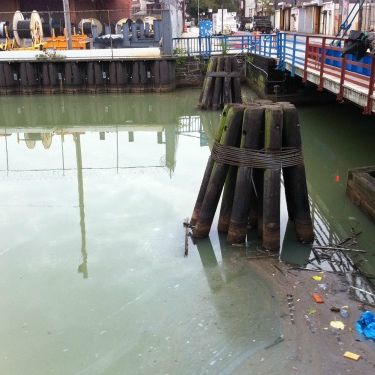 A little more than a year ago, we filed this report about what would happen if Hurricane Irene were to cause flooding in the Gowanus Canal. The canal avoided flooding by a few scant inches, but as Hurricane Sandy bears down on New York, a storm surge is looking even more likely, so we've updated our post from last

 

year.

As Hurricane Sandy begins to arrive in the New York area on Sunday, the neighborhoods surrounding the Gowanus Canal are in for a literal shitstorm — and that may be the least of their problems.
The latest projections anticipate a storm surge of several feet in New York Harbor on Sunday. A dome of water would travel from Upper New York Bay, through Gowanus Harbor, and into the 1.5-mile-long Gowanus Canal near Smith and 9th Street. Once in the canal, it could stir up a heady mix of pollutants — essentially oil, heavy metals, and human excrement — and distribute it throughout the slowly gentrifying area that sits among some of Brownstone Brooklyn's priciest neighborhoods. In Gowanus itself, a host of new restaurants and bars have recently opened, a developer is trying to revive plans for luxury housing along the canal banks, and a new Whole Foods is set to open next year.
Update: As of 9:30 pm on Sunday night, photos posted on Twitter show the Gowanus has already begun to overflow on 2nd St., with water pushing up about 15 feet before the wind and rain and storm surge have even arrived in earnest.