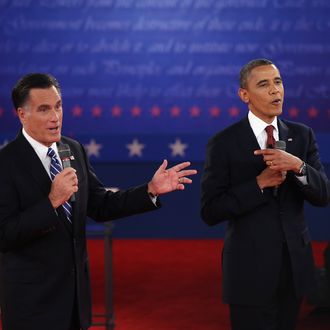 Photo: John Moore/2012 Getty Images
President Obama promised his supporters a more animated, lively performance at the second presidential debate on Long Island tonight, and he kept that promise, refuting Mitt Romney's claims at every opportunity. But, surprisingly, it was actually Romney who ended up initiating the most heated exchanges of the night by directly challenging Obama on three separate occasions. (Which by the way, is against the rules that both candidates agreed to.) The first squabble occurred when Romney accused Obama of cutting access to oil exploration on public land.
Later in the debate, after Obama called out Romney for investing in Chinese companies, Romney confronted Obama again by asking him whether he'd checked his own pension lately — a gotcha move Romney also pulled on Newt Gingrich during a primary debate.
Near the end of the debate, Romney instigated a third confrontation when he accused Obama of lying about how he'd described the attack on the diplomatic post in Benghazi, Libya. Moderator Candy Crowley eventually stepped into the fray with a ruling: Obama was right, and Romney was also kind of right, in a way.
So if you're an undecided voter who enjoys bickering and unintelligible cross-talk, this debate was pure heaven.