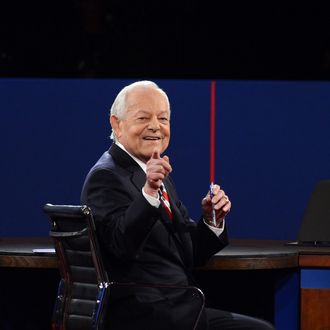 This year's first presidential debate moderator was ridiculed for being too passive, and the second was too feisty for some, but in Bob Schieffer America finally found a moderator that was just right. The Face the Nation anchor is scoring mostly positive reviews, mainly for avoiding the pitfalls of his predecessors, not due to any stand-out achievements in debate moderation. Like Jim Lehrer, Schieffer was silent for much of the debate, but not to the point that it seemed like the candidates were involved in a freeform 90-minute argument. Schieffer stepped in occasionally to ask a question or get the candidates back on topic, but unlike Candy Crowley, it never seemed like he was the third debater. However, Schieffer's biggest assets might have been the debate's setting, and the candidates' reluctance to take on another moderator.
Rather than arguing from behind a podium, or strolling through each other's personal space, on Monday the candidates were seated close together, which allowed Schieffer to direct the conversation without being as assertive. Plus, after being accused of steamrolling Lehrer and bullying Crowley, it seemed that the candidates were purposely more friendly and deferential with Schieffer. When Romney protested that he wasn't given time to respond to President Obama, Schieffer said nicely, "With respect sir, you had laid out quite a program there." Romney immediately backed down, saying, "Well, that's probably true."
Schieffer made several mistakes, but they didn't affect the candidates' answers or provoke accusations of bias from either side. He accidentally called Osama bin Laden, "Obama bin Laden," though it wasn't acknowledged during the debate (and he's certainly not the first person to make the slip). Obama and Romney were able to veer off into a discussion of the economy and education at several points, but Schieffer eventually pushed them back to foreign policy topics, saying "I want to try to shift it, because we have heard some of this in the other debates." Later he drew chuckles when he wrapped up an education diatribe from Romney by saying, "I think we all love teachers."
Ultimately, Schieffer's evaluation depends on what the moderator's role should be. If moderators are supposed to act as journalists, fact-checking candidates, and asking follow-up questions to prod candidates into giving better answers, then vice-presidential debate moderator Martha Raddatz did a much better job than Schieffer. For those who value an impartial mediator who politely imposes time limits and gives candidates some freedom to say what they want, Schieffer was the ideal pick.