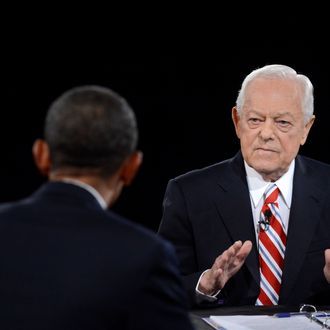 U.S. President Barack Obama debates Republican presidential candidate Mitt Romney as moderator Bob Schieffer of CBS looks on at the Keith C. and Elaine Johnson Wold Performing Arts Center at Lynn University on October 22, 2012 in Boca Raton, Florida. The focus for the final presidential debate before Election Day on November 6 is foreign policy.
Photo: Michael Reynolds/Getty Images
"I saw it in a story last night. I said to my wife, 'Did I say that?' And she said 'Yeah, you did.' I had no idea I said that. But what are you going to do?" —Bob Schieffer to Politico, on accidentally saying 'Obama bin Laden' during the debate last night.