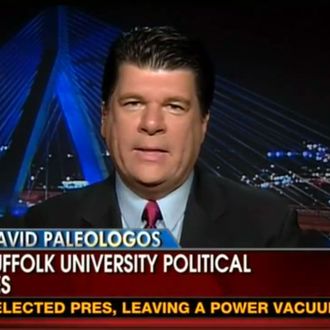 Alleged jackass David Paleologos.
Even Bill O'Reilly couldn't believe what he was hearing: David Paleologos, pollster for Suffolk University, was announcing on Fox News that he was pulling out of Florida, Virginia, and North Carolina for good. Romney, it seems, has them in the bag. "We've already painted those red, we're not polling any of those states again," Paleologos said.
This is an absolutely bizarre decision on its face. The Real Clear Politics polling average currently shows a tie in Florida, Obama up 0.3 percent in Virginia, and Romney up three in North Carolina. There's still nearly a month left until Election Day. How could a pollster possibly call those states for Romney?
Fox News anchor Bill O'Reilly seemed perplexed, and asked Paleologos if he was certain those three states were already in the bag for Romney.

"That's right, and here's why. Before the debate, the Suffolk poll had Obama ahead 46 to 43 [in Florida] in the head-to-head number," Paleologos responded. "A poor place to be for a couple of reasons. Number one, his ballot test, his head-to-head number was below 47 percent before the debate, and it's very, very difficult when you have the known quantity, the incumbent, to claw your way up to 50. So that was a very, very poor place for him to be.

"So we're looking at this polling data not only in Florida but in Virginia and North Carolina and it's overwhelming," Paleologos concluded.
So Paleologos called Florida for Romney because their most recent poll showed Obama with a shaky lead. We're … even more confused now.
Looking for some answers, we asked some of Paleologos's fellow pollsters what they thought of the decision. None of them had very flattering things to say.
"I think all three of those states are still toss-ups," Public Policy Polling's Tom Jensen told us. "We've already polled Virginia since the debate and Obama was up by 3. I don't agree with his assessment, and I don't know why he would have made it without even conducting any polling after the debates."
Gary Langer, who runs the ABC News/Washington Post poll, quipped tartly, "With that kind of foresight, we should find out who he likes in the fifth at Aqueduct."
SurveyUSA CEO Jay Leve was harsher. "This guy from Suffolk is obviously a jackass," he said.