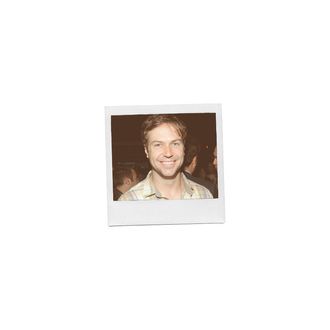 Name: Taran Killam 
Age: 30 
Neighborhood: Battery Park City 
Occupation: Actor, Writer [Editor's note: Amazing Dancer], currently on Saturday Night Live. You can catch him next Monday, October 29, in a one-time-only reading of David Wain, Michael Showalter, and Joe Lo Truglio's play Sex (a.k.a. Wieners and Boobs), a benefit for Clubbed Thumb. 

Who's your favorite New Yorker, living or dead, real or fictional?  
Bill "The Butcher" Cutting.  
What's the best meal you've eaten in New York?  
Brunch at ABC Kitchen. The lemon curd pancakes are the best pancakes on planet Earth. And yes, I've checked. 
In one sentence, what do you actually do all day in your job?  
Laugh, play dress up, and try not to order too many milkshakes from Potbelly's.  
What was your first job in New York?  
SNL. 
What's the last thing you saw on Broadway?  
Anything Goes. My parents were in this play at our community church when I was 5. This version was much better.  
Do you give money to panhandlers?  
If pretty girls are looking.  
What's your drink?  
Did I not just mention milkshakes from Potbelly's?  
How often do you prepare your own meals?  
Is that a thing you can do?! 
What's your favorite medication?  
NyQuil.  
What's hanging above your sofa?  
A map of Big Bear (my hometown).  
How much is too much to spend on a haircut?  
$84.73.  
When's bedtime?  
7:30 a.m. 
Which do you prefer, the old Times Square or the new Times Square?  
Probably the new one. In the old days, you would have had to stand there for a very long time waiting for your picture to develop so you could see it up on the giant Forever 21 screen. 
What do you think of Donald Trump?
He's probably done some pretty dark things in his life, right? Like really dark. So I'll say I think he's a good secret-keeper. ;) 
What do you hate most about living in New York?  
The aroma. 
Who is your mortal enemy?  
Eddie Redmayne. 
When's the last time you drove a car?   
Today. 
How has the Wall Street crash affected you?  
It's made me reconsider what money means to me. I realized I needed to give back, get involved in fund-raisers for different organizations, such as Clubbedthumb.org. Did I mention I'm doing a play reading to raise money for them on October 29? 
Times, Post, or Daily News?  
Times.  
Where do you go to be alone?   
Anywhere near water. Fish are good secret-keepers. Wait, can I change my answer about Trump? I think he's a fish.  
What makes someone a New Yorker?  
Someone who complains about noise, weather, limited space, being around people … and wouldn't live anywhere else.