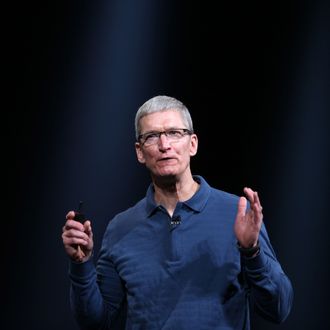 Teflon Tim.
Photo: KIMIHIRO HOSHINO/AFP/Getty Images
Corporate earnings are confusing things. Sometimes you'll see headlines like "Apple Profits Rise 24% on iPhone 5 Sales," and you might be like, Wow, Apple is amazing! And then you'll click another story and see "Apple Misses Wall Street 4Q expectations" and be very confused, because that doesn't sound good at all. It's all very Rorschach-y.
Today, Apple managed to both wow and disappoint investors. The company reported third-quarter revenue that slightly beat expectations, and profits that topped last year's numbers, but its earnings per share came in below expectations, and the company cut its earnings guidance for next quarter.
Derek Thompson has a chart-based breakdown of how, and where, Apple made its money last quarter. (The short version: It's all iPad and iPhones, and Asian sales are growing quickly, but not as quickly as you might expect.) And despite the bellyaching among gadget reviewers about the lack of new features on the iPhone 5, consumers don't seem to care — Apple sold 26.9 million iPhones during the quarter, nearly 4 million more than analysts had predicted.
Investors don't care about the lowered guidance, either. After an initial dip when the earnings were released, Apple shares ended the day down only 1 percent and are basically flat in after-hours trading.
Next quarter could be different though. Holiday sales are crucial, and if Apple's recently revamped iPads, iMacs, and MacBook Pros strike consumers as too pricey or too derivative of earlier models to justify an upgrade, even the lowered guidance numbers might be hard to meet.
CEO Tim Cook used the earnings call to talk up the best parts of the quarterly report and throw some mud at Microsoft, which announced Windows 8 and its Surface tablets today.
"I haven't played with the Surface yet, but what we can tell is that it's a fairly compromised, confusing product. You could design a car that flies and floats, but I don't think it would do any of those things particularly well," Cook said, according to TechCrunch.
Proof that while its earnings-per-share numbers might not be meeting expectations, Apple's diss-per-quarter figures are still right on target.