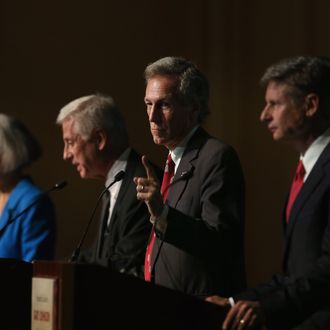 From left to right, Jill Stein, Rocky Anderson, Virgil Goode, and Gary Johnson.
Photo: Scott Olson/2012 Getty Images
The debate between third-party candidates on Tuesday night was refreshing, inspiring, and a bit sad. The four candidates — Rocky Anderson of the Justice Party, Virgil Goode of the Constitution Party, Gary Johnson of the Libertarian Party, and Jill Stein of the Green Party — were shut out of events run by the Commission on Presidential Debates, which requires candidates to have at least 15 percent of the vote in national polls. Instead, they met in the ballroom of a Chicago hotel for a debate that was moderated by Larry King and only aired online and on C-SPAN. Unlike the carefully orchestrated Obama-Romney debates, the event was comically disorganized at times. The feed started while King was still figuring out which camera he should be looking at, and he accidentally skipped the opening statements, so candidates had to deliver their remarks after answering the first question. On the other hand, the discussion was much more open and unfiltered. Questions were submitted via social media and covered topics that are barely mentioned by major candidates, such as legalizing marijuana and detaining Americans indefinitely in the war on terror. The event was also much different from the major debates in that the candidates focused on explaining their policies rather than attacking each other — though they all had plenty of criticism for Romney and Obama.
The candidates kicked off the debate by going after the two-party system, which Anderson said is putting a "stranglehold on our democracy." Stein described being arrested while trying to enter the Hofstra University debate, and said Americans "must stand up and demand real democracy – including real debates." Johnson suggested that politicians should have to wear NASCAR-style patches on their jackets to reveal their major campaign contributors and said of Romney and Obama, "There are only a couple of voices being heard here, and it's Tweedledee and Tweedledum."
Everyone agreed that money has too much influence in politics, argued that America should be less involved in foreign wars, and opposed the National Defense Authorization Act. They also spoke out against the costs of the war on drugs, and all except Goode argued for legalizing marijuana. Anderson said he would pardon everyone who's incarcerated solely for drug convictions, and Johnson added, "I can tell you that in no category is marijuana more dangerous than alcohol — yet we are arresting 1.8 million people a year on drug-related crimes."
The four candidates also differed with some dramatic proposals. Stein advocated for free public higher education, while Johnson said federal college loans should be eliminated because they're driving up the cost of education. Goode said that the U.S. should stop issuing green cards to immigrants until the unemployment rate falls below 5 percent. Anderson proposed a constitutional amendment similar to the Equal Rights Amendment, but with language added to protect the rights of LGBT Americans.
Stein, Johnson, and Goode each had only one percent of the vote in a Gallup poll conducted in September, and for the most part coverage of their campaigns has focused on how they might act as spoilers in certain swing states. However, in his closing statement, Johnson made a passionate argument for supporting a third-party candidate. "Wasting your vote is voting for somebody you don't believe in," he said. "I am asking everyone watching this nationwide to waste your vote on me … and then I'm the next president of the United States." A few minutes later, King praised the candidates for putting up an admirable fight, but struck a less optimistic tone. "You're all Don Quixotes in a way," King said, "but the windmills have a way of stopping and we have a way of saluting you just for getting into the fray."