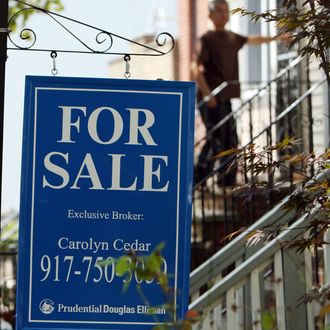 Photo: Spencer Platt/2009 Getty Images
Limited inventory continues to be the story of Manhattan's real estate market, according to third quarter reports released by the city's top firms. (The surveys almost always differ slightly on their findings, but on this they all agree.) Prudential Douglas Elliman saw the number of available listings plummet by 24.3 percent to 5847 compared to the same period a year ago, the tightest in seven years.
Meanwhile, sales volume jumped 16.6 percent from the same period last year, according to Streeteasy.com. Halstead Property and Brown Harris Stevens also saw the number of closings rise by 12 percent. Prices remained somewhat level — the median price dipped by just 2.3 percent from to $890,000, per Elliman; the average fell just 1.4 percent to $1.44 million.
The good news for homeowners is that the combination of robust demand and tight inventory is a recipe for climbing prices. "This can't go on forever without any appreciation," says appraiser Jonathan Miller, who prepared Elliman's survey. However, if the inventory dilemma gets worse, the market could lose momentum. "You never want too low of a supply, because then [buyers] lose interest," says Halstead Property president Diane Ramirez.
Other findings of note:
• Upper Manhattan, which includes Washington Heights and Inwood, is gaining fans. The number of apartments going into contract in the area jumped 70.8 percent to 234, according to Streeteasy.com. The average-price-per-square-foot for condos increased by 16 percent.
• Though we've been hearings lots about larger, more expensive properties hitting the market lately — indeed, Olshan Realty found eleven contracts signed last month for apartments priced $4 million and up, making it a stellar September — it's the bread-and-butter segment that continues to dominate the market. Sales of one-bedrooms and two-bedrooms accounted for 71 percent of transactions, per the Corcoran Group's survey.
• Properties are selling faster, too: Streeteasy's research shows the average time on market falling from 141 days last year to 128 days this year.