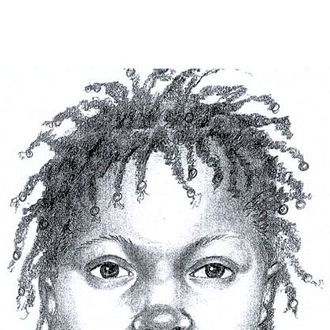 Photo: New Jersey State Police
The skeleton of a young girl found in New Jersey seven years ago, referred to callously as "Baby Bones," now has a name. Investigators have identified the child as Jon-Niece Jones and determined that she died in August of 2002, at the age of 9, likely at the hands of her abusive mother in a Harlem apartment. While Jones's mother died that same year, the girl's uncle, aunt, and the aunt's boyfriend were charged yesterday with obstructing justice, tampering with evidence, and hindering apprehension in a cold case finally cracked.
After years of dead ends, including a segment on America's Most Wanted featuring a facial reconstruction of the child, Jones's sister Iyonna came forward with a tip. The girl's relatives — Likisha Jones, James Jones, and Godfrey Gibson — allegedly helped dump the body off of the New Jersey Turnpike and covered it up with a fire, authorities announced. Recently, Likisha Jones and Gibson have been caring for 13 children in Chinatown, the Times reports.
An investigation into Jones's disappearance by the Manhattan District Attorney is ongoing, and they have plenty of questions to answer:
New Jersey prosecutors said she had suffered years of neglect and abuse by her mother, Elisha Jones. But the Administration for Children's Services in New York City said no file existed for the girl. The Police Department had no record of any missing-person report for her. And her name did not appear in the city's public school records.
"Whenever you find remains, especially that of a child, you want to break the case," said Christopher J. Gramiccioni, acting prosecutor in Monmouth County, where the relatives were arrested. "And we're glad we did."