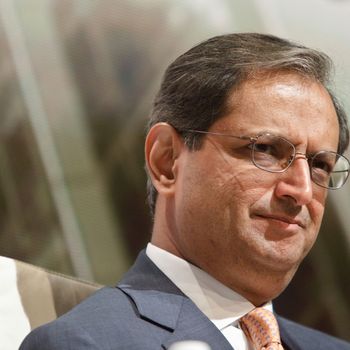 Photo: James Leynse/Corbis
Vikram Pandit's sudden ouster as CEO of Citigroup, which was announced this morning to the shock of everyone on Wall Street, was the product of a long-running feud with Citigroup's board, according to a well-placed source at the bank.
According to the insider, who has ties to Pandit, the problems began when the bank failed a "stress test" given by the Federal Reserve last March, and intensified in April, when shareholders shot down Pandit's proposed $15 million pay package. But the "nail in the coffin" was when Citi was forced to take a massive $4.7 billion writedown last month on its stake in the joint venture Morgan Stanley Smith Barney. The humiliating defeat at the hands of Morgan Stanley hurt Citigroup's third-quarter earnings, which were announced just yesterday.
"The board basically told Vikram, 'We're going to go in a different direction at the end of the year,'" the insider said. That effectively sealed Pandit's fate, and Pandit decided to leave before he was fired. The simultaneous resignation of John Havens, Citigroup's president, who has traveled with Pandit through several jobs, was essentially a given.
"The timing may have been his idea, but [Pandit] absolutely was not planning on leaving this company for another two to three years," the insider said.
The sudden nature of Pandit's and Havens's resignations confused employees at Citigroup's headquarters, who learned of the changes from media reports before any internal memos had reached their in-boxes. Some analysts speculated that the speed of the changes signaled bad news to come — new details on the bank's involvement in the Libor-rigging scandal, perhaps. But the insider said that a major legal shock isn't likely to materialize, and that Libor issues weren't at the heart of the board's decision.
"Doing this when we had a decent quarter makes it look like there's a smoking gun," the insider said, "but it's just not true."
Pandit's replacement will be Michael Corbat, a former Harvard football player who had been the head of the bank's Europe, Middle East, and Africa division. Corbat, who sent a memo to Citigroup employees upon being named CEO, is affable and well-liked at the bank. But he may not inspire the same confidence as Pandit, who was regarded as a shrewd trader who knew the bank's positions inside and out.
Corbat is expected to shake things up in Citigroup's senior ranks. Chief administrative officer Don Callahan, a Pandit ally, is said to be poised to follow him out the door.
Today marks the second time Pandit and Havens have been forced out of a job together. In March 2005, Morgan Stanley CEO Phil Purcell demoted both men and removed their major responsibilities in an attempt to stave off an internal revolt, effectively ushering them out the door in a joint resignation that was dubbed the "Monday Massacre." The pair left Morgan Stanley, formed a hedge fund called Old Lane Partners, and eventually came to Citigroup together in 2007, with Pandit eventually becoming CEO and Havens the president.
Today, Pandit and Havens appear to have been the casualty of another swift, unexpected defenestration.
Pandit's tenure as Citigroup's CEO will be remembered primarily for two numbers: $1 and 89 percent. The first is the salary Pandit famously requested for himself in 2009 and 2010, as Citigroup fought for its life. The second is the amount Citigroup's stock fell from December 11, 2007 — the day Pandit's CEO appointment was announced — until yesterday.
Pandit was in many ways an unlikely bank CEO. Withdrawn by nature and not given to seeking the limelight, he reluctantly embraced his role during the financial crisis, when just being in the driver's seat made him a target for criticism. When he took over Citigroup's helm in 2007, he inherited a mess — a supermarket bank with toxic assets on its books, a retail bank that had never quite gelled, and a fractured leadership structure.
He approached his task with optimism. "It's going to take me a year and a half to two years and then the water will flow, and when the water will flow, the stock price goes up," he told a colleague at the time, according to Joe Hagan's 2009 New York profile. "The stock price goes up, everybody will come around."
Pandit did as much as any CEO could have to stage a turnaround. He oversaw a $45 billion federal bailout, and took steps after the crisis to wind down the poorly performing parts of the bank while relying on safer, less leveraged units to make money. Yesterday, the bank's quarterly earnings  showed clear progress on that transformation. But this morning, when the bank announced that both Pandit and Havens, his right-hand man, were gone, it was clear that the clock had run out.
As with the Monday Massacre at Morgan Stanley, today's violent upheaval was cloaked in subdued diplomacy. "Given the progress we have made in the last few years, I have concluded that now is the right time for someone else to take the helm at Citigroup," Pandit said in a statement. "I could not be leaving the company in better hands."
As for the timing of his departure, Pandit told Bloomberg TV this morning that the decision to leave – or leave when he did – was his.
"I wouldn't have done this unless I thought it was the right time," he said.