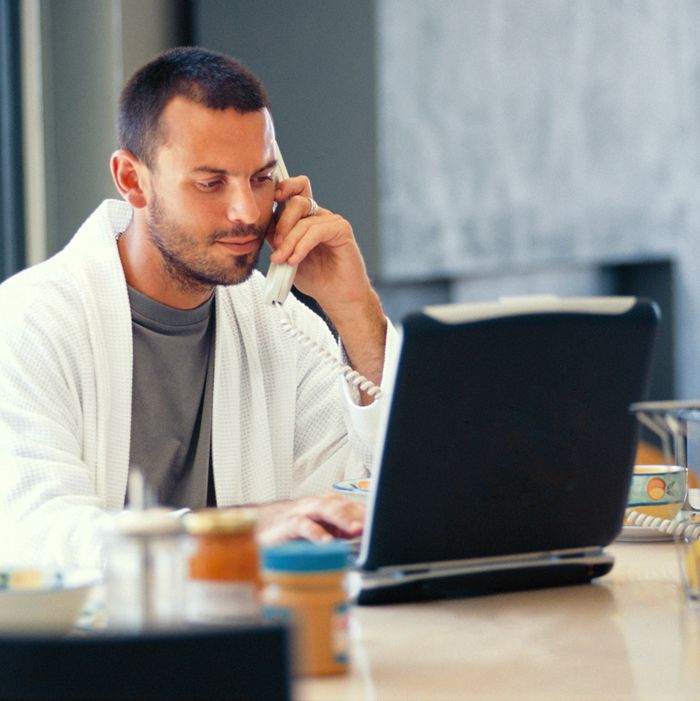 Not Adam G.
Photo: Simon Potter/Corbis
Adam G. is one of many Wall Street traders who have spent the past three days learning to work from home.
Adam, an oil derivatives trader for a major trading company who preferred that his last name not be used, has been camped out in his ground-floor Prospect Heights apartment since Monday, when flooding from Hurricane Sandy closed his office in the World Financial Center. Stock markets opened Wednesday morning after a two-day closure, but electronic trading of commodities futures and options has been open all week, giving Adam no excuse for taking time off.
"The oil market's been incredibly calm, but it's open," he said.
Electronically traded crude oil futures totaled only 221,000 lots on Tuesday, compared to 395,000 lots last Friday, before the storm, according to data from the CME Group.
But despite low volume, working from home hasn't been easy. Adam's regular trading desk has eight screens, a Bloomberg terminal, and a phone turret with direct lines to banks and hedge funds he frequently trades with. In Prospect Heights, he has only a small laptop.
"I'm only at 70 or 80 percent capacity," he said. "I'm communicating with my brokers over instant-message programs."
Goldman Sachs and Citigroup, whose trading floors are in Zone A, were both closed on Monday and Tuesday, and other banks whose workers rely on public transportation were shuttered as well. Employees of those banks were forced to find ways to work from home, making do with the technology and the electricity they had.
Sandy's damage could have been worse for him, Adam said, if it had interrupted a volatile time in the oil markets.
"If last week was crazy, I'd be freaking out," he said. "I'd be looking for office space I could rent. But since it's been so quiet recently, nobody really cares."
Adam says he's a scratch on the week financially, having neither made nor lost great sums. Many of his firm's clients and counterparties are still in recovery mode, and with the financial district still a mess and public transportation still knocked out for many, trading volume will likely continue to be low all week.
"I'm pretty much in maintain mode," he said. "There's nothing life or death, no 'this trade needs to happen' kind of thing."
While storm recovery continues, Adam and his wife have been taking care of long-neglected tasks, including planning a honeymoon to Thailand. (They got married five months ago.) They've taken trips to coffee shops, exercised in the apartment, and spent most of the day in bed on their laptops.
At 11 a.m. on Wednesday morning, Adam was still in his sweatpants, watching a Netflix documentary about the Buddha while keeping one eye on the markets.
"Honestly, dude, it's been great," he said.