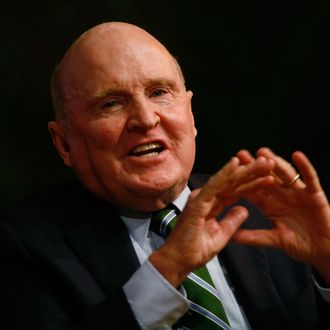 Jack Welch.
Photo: Joe Raedle/2009 Getty Images
On Tuesday former General Electric CEO Jack Welch announced that he'd no longer be writing opinion pieces for Reuters or Fortune, and he's already found a publication that's more tolerant of his conspiracy theories: The Wall Street Journal. Welch's op-ed is titled "I Was Right About That Strange Jobs Report," though he still hasn't produced any evidence that the Labor Department is manipulating figures to benefit President Obama. Nevertheless, he starts off by comparing the ridicule he's received over the past few days to the reaction "challenging the ruling authorities—questioning, say, a piece of data released by central headquarters" would prompt in "Soviet Russia" or "Communist China." Apparently dissenters in those nations are merely forced to take their baseless accusations to their equivalent of Fox News and The Wall Street Journal.
Once again, Welch argues that the drop to 7.8 percent unemployment simply feels off:
I know I'm not the only person hearing these numbers and saying, "Really? If all that's true, why are so many people I know still having such a hard time finding work? Why do I keep hearing about local, state and federal cutbacks?"
Welch also tries to justify his claim by pointing out that while administration officials and some cable TV anchors "would like you to believe that BLS data are handled like the gold in Fort Knox," the figure isn't a perfect reflection of how many Americans are unemployed. He explains that the data is gathered by census workers who try to contact 60,000 households, mainly by phone. This can lead to ambiguous answers — does an unemployed accountant with a babysitting gig count as being employed part-time? Welch writes:
The possibility of subjectivity creeping into the process is so pervasive that the BLS's own "Handbook of Methods" has a full page explaining the limitations of its data, including how non-sampling errors get made, from "misinterpretation of the questions" to "errors made in the estimations of missing data."

Bottom line: To suggest that the input to the BLS data-collection system is precise and bias-free is—well, let's just say, overstated.
As Catherine Rampell of the New York Times explained over the weekend, "These numbers are always tremendously volatile, but the reasons are statistical, not political." The figures are the result of economists at the Bureau of Labor Statistics — who are career civil servants, not political appointees — trying to find a number that best reflects the current state of unemployment. A page in the handbook that explains the BLS hasn't developed an infallible survey method still doesn't prove that its employees are churning out figures that are biased toward President Obama.
Welch says he's happy that the current debate has more people thinking about what unemployment data actually means — "and even expressing skepticism." "The New York Times in a Sunday editorial, for instance, acknowledged the 7.8% figure is 'partly due to a statistical fluke.'" Just to be clear, the Times was acknowledging the statistical issues involved in collecting jobs data, not joining with the unemployment-rate truthers. In the very next sentence, the paper called the claim by "some conservative commentators" that the Obama administration cooked the books "an allegation that insults federal statisticians and only shows how desperately Republicans want bad economic numbers to use to attack the president."