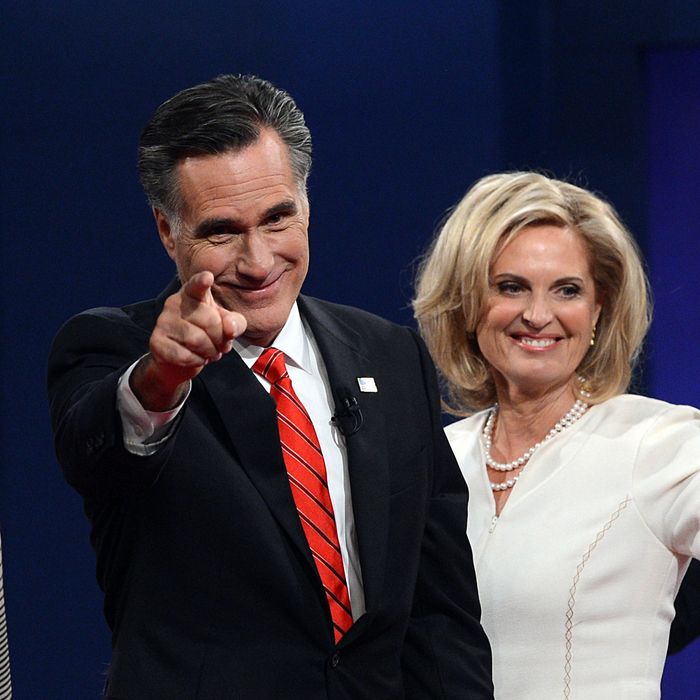 I want YOU to laugh at my zingers.
Least Relaxing Pre-Debate Ritual: Jenga
Number of Times the Name "Bush" Was Mentioned: One, in a reference to the Bush tax cuts
Number of Times the Name "Clinton" Was Mentioned: Three
Number of Times the Name "Reagan" Was Mentioned: Three
Number of Times the Name "Biden" Was Mentioned: Zero
Number of Times the Words "Middle Class" Were Uttered: Nine (seven by Obama, two by Romney)
Best Unacknowledged Borrowing of a Bill Clinton Line: "It's math. It's arithmetic." — Obama, echoing Clinton's DNC speech
Worst Anniversary: The Obamas, celebrating their twentieth tonight
Number of Transparently Self-Serving Swing-State Shout-Outs: Seven:
"

It means that the teacher that I met in Las Vegas…" — Obama

"I was in New Hampshire. A woman came to me…" — Romney

"I met a couple in Appleton, Wisconsin, and they said…" —

 

Romney
"The auto workers that you meet in Toledo or Detroit…" —

 

Obama
"At Cleveland Clinic, one of the best health care systems in the world…" —

 

Obama
"I was in Dayton, Ohio, and a woman grabbed my arm…" —

 

Romney
"Because of the woman I met in North Carolina who decided at 55 to go back to school…" — Obama

Least Popular Proposal Among Toddlers: "I'm going to stop the subsidy to PBS. I'm going to stop other things. I like PBS. I love Big Bird. I actually like you, too. But I'm not going to — I'm not going to keep on spending money on things to borrow money from China to pay for it." — Romney, creating instant internet hilarity
Sexiest Line: "This is the biggest kiss that's been given to — to New York banks I've ever seen." — Romney, on Dodd-Frank
Most Shocking Absence: Any mention by Obama (or Jim Lehrer, but mostly Obama) of Romney's highly unpopular 47 percent remarks
Top Three Zingiest Zingers:
3. "I had a friend who said, you don't just pick the winners and losers; you pick the losers." — Romney

2. "And at some point, I think the American people have to ask themselves, is the reason that Governor Romney is keeping all these plans to replace secret because they're too good? Is — is it because that somehow middle-class families are going to benefit too much from them?" — Obama

1. "Mr. President, you're entitled, as the president, to your own airplane and to your own house, but not to your own facts." — Romney
Number of Hours Obama Seems to Have Slept Last Night: Negative 50

Number of Times Obama Pointed Out That He and Romney Agreed on Something: Five:

"

One of the things I suspect Governor Romney and I probably agree on is getting businesses to work with community colleges so that they're setting up their training programs."

"When it comes to our tax code, Governor Romney and I both agree that our corporate tax rate is too high."

"On energy, Governor Romney and I, we both agree that we've got to boost American energy production."

"It appears we've got some agreement that a marketplace to work has to have some regulation."

"I suspect that on Social Security, we've got a somewhat similar position

."
Two Least Bold Romney Stances:
1. "Expensive things hurt families."
2. "I love great schools."
Most Amazing Scientific Breakthrough: Moderator Jim Lehrer somehow introduced the debate and then made himself completely invisible for the next 90 minutes.

Biggest Lie: "You've done a great job." — Obama to Jim Lehrer
Most Insulting Depiction of Romney's Family: "Look, I got five boys. I'm used to people saying something that's not always true, but just keep on repeating it and ultimately hoping I'll believe it." — Romney, referring to his fully grown sons as compulsive liars
Most Awkward Small Talk: When the Obamas and Romneys mingled onstage after the debate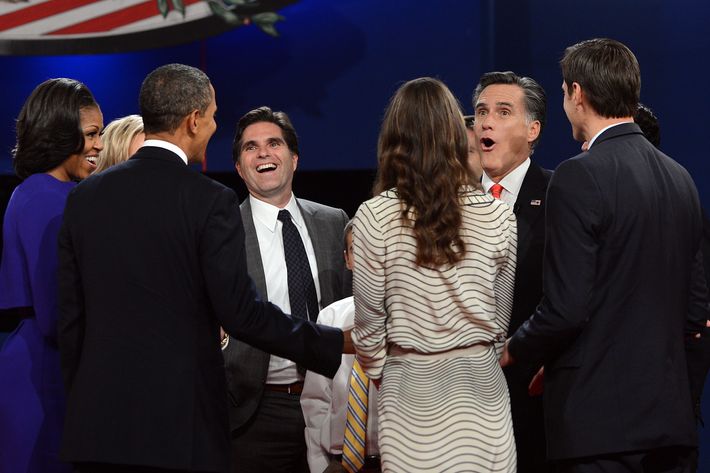 Winner: Mitt Romney
Losers: Barack Obama, Jim Lehrer, Big Bird