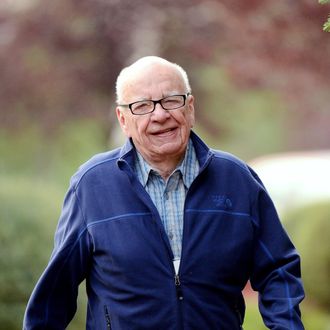 Photo: Kevork Djansezian/Getty Images
Massive changes are on the horizon at Rupert Murdoch's News Corp., with the company set to be split into two halves — one for the profitable TV and movie stuff and one for the scandal-prone publishing side — next year. While the 81-year-old media mogul will remain chairman and chief executive of the entertainment company, he'll be ceding the CEO spot to someone else for the publishing half, which will include, among others, the New York Post, the phone-hacky British papers, and The Wall Street Journal. So when the Journal itself reported last week that its own editor-in-chief Robert Thomson, head of Dow Jones, is a favorite for the new executive spot, ears perked up internally.
Michael Calderone has the contender roundup today at the Huffington Post, beginning with Thomson's deputy editor Gerard Baker. He'd be the logical choice, but also a prospect previously referred to as "terrifying," according to some anonymous Journal skeptics who fear Baker's "baggage as being a right-wing ideologue," including appearances on Fox News (also Murdoch owned, obviously). Although the paper's editorial board has a known rightward slant, the newsroom prefers to keep up appearances as objective.
Other names floated by Calderone include deputy managing editor Alan Murray, front-page editor Rebecca Blumenstein, and Wall Street Journal Asia editor-in-chief Almar Latour. And from outside, WSJ alumni like CNBC editor-in-chief Nik Deogun and New York Times business editor Larry Ingrassia.
With Murdoch, there's always the chance of installing a transplant from his paper's overseas, HuffPo notes, but if rumors of News Corp. buying the Los Angeles Times and/or Chicago Tribune pan out, there will be room everyone.