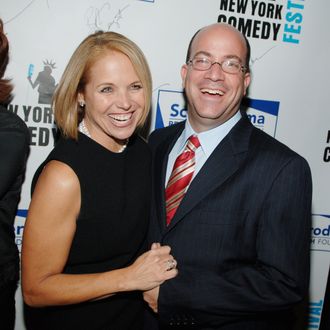 Photo: Stephen Lovekin/WireImage/Getty
With CNN searching for a new president (and some fresh mojo) by the year's end, Deadline reports that former NBC Universal head Jeff Zucker is in the running, and might even abandon his beloved Katie Couric for a new job. Zucker and Couric go way back to Today, and he works now as a co-executive producer on her ABC daytime talk show Katie, although the new program is not expecting to have him around for much longer.
According to Deadline, "talks with potential candidates [to replace Zucker] are under way, and a hire is expected within the next couple of weeks," but since Zucker has millions of dollars and a long friendship on the line with Couric, he's "not likely to leave without a succession plan in place."
The Zucker-to-CNN rumors were also floated last month by the Post, which put him in the running with other former broadcast bosses like NBC's Neal Shapiro and ABC's David Westin, and said the job could be filled before the election. "Unlike CNN International, we just don't have someone with a mission," said a source for the network, where ratings aren't what they used to be. "We need our Roger Ailes." Zucker may not pack that punch, but he does seem like more of a hard-news guy than a slutty brownie man.