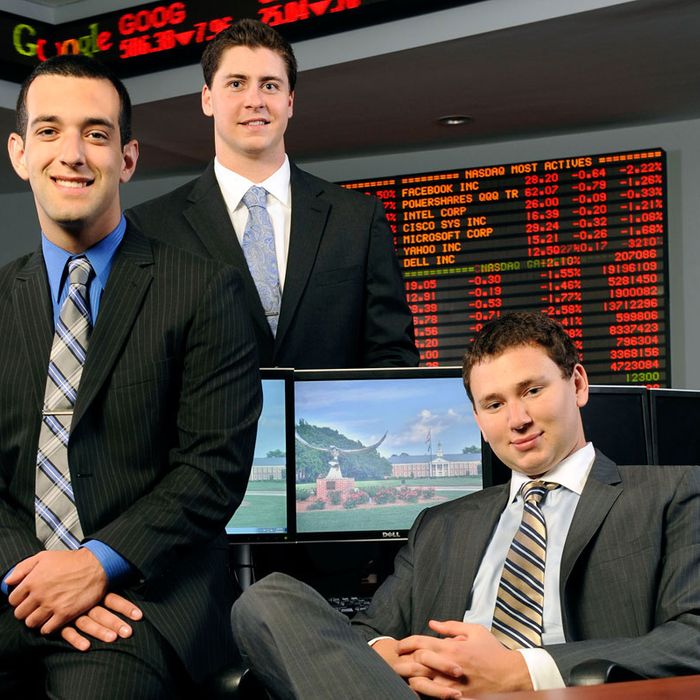 Lumina Investments LLC.
Photo: Courtesy of Lumina Investments LLC
Last week, I wrote about a hedge fund, Lumina Investments LLC, that was run by three college students from North Carolina.
The post was a send-up of how self-serious the students had made themselves appear on their website ("macro event-driven investing") and in their résumés ("Mahoney, the firm's specialist in global securities and derivative structures … "). After posting it, I felt a little bad, having just ruined the dreams of a couple of kids who, I imagined, just wanted to do something productive with their bar mitzvah money.
Then I learned — via a friend's tweet — that the founders had begun using a sarcastic line ("We don't typically provide investment advice, but trust us on this one: Get on the ground floor, if you still can") as the lead quote on their website.
This was disturbing. I felt like a movie critic who pans a new film, only to have the studio pull all the "nots" and "don'ts" out and run the review as a ringing endorsement. Again, I am not an investment advisor, but if I were, a few of the risk factors I would have identified about Lumina Investments LLC are: Hedge funds are pretty hard, as junior-year side projects go; their investment philosophy (which was spelled "PHILOSOPSHY" on their website) that essentially translated to "we buy stuff we read about in the news, and try to sell it for more money"; their founders' photo, which looks like an ad for a set of Gordon Gekko Halloween costumes; and this video:
I decided to clarify matters. The 800 number on the firm's website was answered by "Zach" – or, more properly, Zachary P. Cefaratti – who said he was Lumina Investments LLC's new director of research and investments. (He later clarified by e-mail that he was "not officially or legally a partner or a member of the firm yet and I have been helping them on an informal basis.") The 800 number had, unbeknownst to him, been forwarded to his cell phone.
Cefaratti, a 24-year-old graduate of Franklin College, had recently turned down an offer from Goldman Sachs's private wealth management division to come onboard (unofficially) at Lumina. I asked him if his offer was in Goldman's New York office; he said, "I'm not sure, it's kind of a developing thing" and changed subjects.
Cefaratti then passed the phone to Elliot Carol, a junior at UNC Wilmington's business school and the chairman of the fund. Carol said he didn't take offense at all: "That was the greatest article I could ever have asked for!" Still, Carol said I'd given the firm short shrift by portraying it as a less than serious venture. "This is as real as it gets," he said. "We have very, very good lawyers. We have real clients. And we are here to compete against the best hedge funds in the world."
Carol said that the four-man firm currently had "less than a million dollars" under management, mostly from friends and family, but "that's expected to increase greatly." And he added that the firm's office, which is not pictured in the promotional photos (those were taken in a UNC Wilmington business classroom), was a step up from the norm.
"Steve Jobs started Apple in his garage, and we've moved up to an office."
Carol told me that he'd started investing as a kid, after his friend bet him that he couldn't buy an all-terrain vehicle with his savings. He said that although he had never trained officially at a Wall Street firm, he'd learned the secrets of successful investing by studying the careers of Julian Robertson, the hedge-fund legend behind Tiger Management, and George Soros — men he described as "my mentors."
So wait, I asked: Had he actually met Robertson and Soros?
"No." Then he paused and backed up. "I … I have to ask them before I actually divulge anything. I think it's fair to say that I have been to Tiger Management in New York. I should really check with them."
I mentioned to Carol, in the spirit of helpfulness, that he should probably also ask his lawyer about the firm's website — namely, whether it was legal. Current securities law prohibits hedge funds and other private investment companies from soliciting investors, which typically precludes advertising or any sort of widely distributed promotional materials.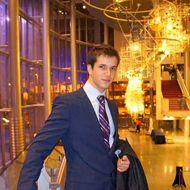 He said he would. And then, as if responding to a suggestion that they weren't being proper adults about the whole "running a hedge fund" thing, he added:
"We have a very unique niche. These markets, they've never been witnessed before. And because of our experience, we started observing these markets so young. Age serves a very strong, uh, what's the word … a very strong, uh, source of credibility. And I think these markets … I'm sorry — I'm completely blanking. I think our age is very much considered, but it's simply … uh, I'm sorry, I'm completely blanking right now. Is it okay if I give you back to Zach?"
He handed the phone back to Cefaratti, who finished the thought that had tripped Carol up: "I know I have a lot to learn. But we didn't walk into these markets with 20 years, 40 years of preconceptions. We don't know the market of the nineties. We don't know the markets of the eighties. What we really know are these markets. And they're unlike any others."
Cefaratti agreed to take my quasi-endorsement off the firm's website, after I told him that while I admired the company's gumption and thought they sounded like nice enough guys, I probably shouldn't lend my employer's name to an endorsement of any hedge fund, well-run or not. He apologized. Then, in a tone that bespoke the kind of youthful idealism that no amount of carried interest can buy, he hammered home his point:
"We're not playing around here. This is a serious hedge fund, doing serious and big things. This isn't a joke."