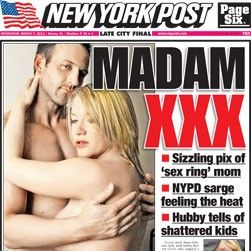 When Anna Gristina was arrested earlier this year for running a Manhattan brothel, law-enforcement sources crowed to the gleeful tabloids about her A-list clients and the millions of dollars she made serving them. Despite a five-year investigation, the case turned out to be something of a bust, with the juicy details limited to a predictable John Edwards connection, and the hockey mom pleading guilty to a single count of promoting prostitution. Today, Gristina did an additional 45 minutes in custody before being released for time served, and then capped off her strange journey with a blazing encore targeting the district attorney.
Asked by a judge to comment at her sentencing, Gristina said, "It's probably better, your honor, that I don't," according to the Post. But speaking with reporters later, the mother of four and her lawyer Norman Pattis unleashed. "She [pleaded] out to a sting operation by one cop — who paid $2,000 of tax payer's money to watch two women engage in cunnilingus," said Pattis about the city's undercover sting. "So who's the pimp? Cyrus Vance? Sounds like it to me." Gristina agreed: "Look at the DA's office itself!"
"There is nothing glamorous about prostitution," Vance countered through a spokesperson. "Anna Gristina rented women's bodies for profit, which makes her a pimp. That also makes her a felon, and the court has now issued that judgment. She has no one to blame but herself for her decisions." (Gristina has five years of probation to look forward to, and could still face deportation to her native Scotland.)
"I wish we would have tried this case, and that he had tried it himself, personally," Pattis added of Vance. "I think he would be pulling my shoe out of his ass." If that performance doesn't sell Gristina's tell-all, nothing will.