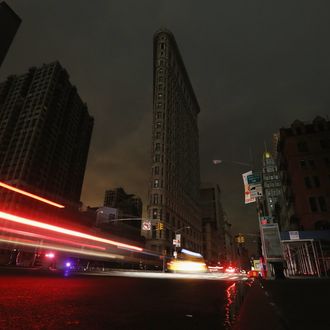 Photo: Mario Tama/2012 Getty Images
Ghanaian immigrant Anthony Narh died when Hurricane Sandy flooded the Tribeca garage where he worked, despite mandatory evacuation orders covering the area. A resident of the building next door at 92 Laight Street, reportedly home to Meryl Streep and Gwyneth Paltrow, told The Nation that she spoke with Narh just as the storm was picking up, "And he said, I was called in to come." According to a source, the manager of the garage wanted someone watching the vehicles.
"I told him, look, you should really send everybody home," said the source. "He said, look at the garage, there are still cars here." The source estimated that there were still twenty to thirty cars in the garage.

When reached for a response, the manager of Empire Parking, who gave his name only as Wilfred and declined to provide a last name, said the company did not have a comment on "this subject."
A photo of the 57-year-old Narh now hangs outside of the lower Manhattan garage, which has remained closed since after Sandy.