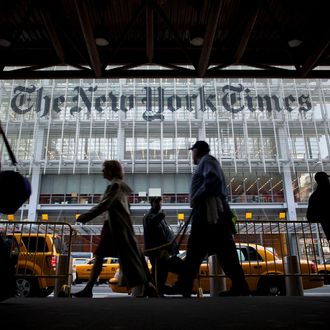 Photo: Bloomberg/2011 Bloomberg
The firing of New York Times Company CEO Janet Robinson last year was complicated, in part, by the involvement of an influential force from outside of the building: the girlfriend of the paper's chairman and publisher Arthur Sulzberger Jr. According to whispers reported by New York's Joe Hagan, Sulzberger was "madly, and conspicuously, in love" with Claudia Gonzalez, "an elegant and statuesque Mexican marketing executive" and "a pedigreed jet-setter," for whom he was willing to travel — a lot. Now Capital New York reports that the high-powered pair have split, though her mark on the company remains.
"Robinson, according to former colleagues at the paper, was growing annoyed with what she saw as Gonzalez's undue influence on her boss, his forays with her cutting into the weekly face time Robinson had grown accustomed to having with him over the years," Hagan wrote. "The tension between Robinson and Gonzalez, with Sulzberger in the middle, seemed to signal a shift at the paper."
As a replacement for Robinson, who left with an exit package worth close to $24 million, Sulzberger brought in Mark Thompson, whose own issues with the scandal at the BBC have made for more bumps at the paper. Originally scheduled to answer questions on the matter — and the future of the Times — later this month, Thompson announced today that his companywide town hall meeting will be delayed until early 2013, after an inquiry into the mess at his former employer is released. In the meantime, everyone can just enjoy the holidays. For Sulzberger & Co., it's been a long enough year already.