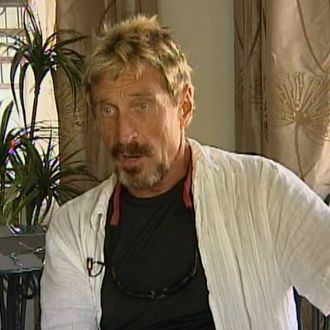 The drugged-out adventures of anti-virus founder John McAfee, who is suspected of murdering his neighbor in Belize, have only gotten more bizarre since news of the killing first hit the U.S. According to Wired, McAfee is avoiding the authorities by "burying himself in the sand with a cardboard box over his head" because he's afraid of being interrogated. "It was extraordinarily uncomfortable," he said. "But they will kill me if they find me."
McAfee, who lost most of his tech-bubble money and got really into bath salts, claims he has nothing to do with the shooting of Gregory Faull, a fellow ex-pat who was not pleased with McAfee's six big, barking dogs. (He filed a formal complaint against McAfee for "roguish behavior" just days before his death.)
McAfee says the animals were poisoned, and maybe whoever killed his neighbor was actually after him. "Under no circumstances am I going to willingly talk to the police in this country," he told Wired. "You can say I'm paranoid about it but they will kill me, there is no question. They've been trying to get me for months. They want to silence me." Bad trip or worst trip ever?
Update: Wired reporter Joshua Davis has been in touch with McAfee again this morning. "I will not turn myself in," the murder suspect said. "The police have set up roadblocks across the country to catch me. I slept last night on a mattress infested with lice."
But then things took a turn, or so McAfee claimed. "Power was just cut to the house I'm in," he said. "I think this is it."
Update II: McAfee, going full Hunter S. Thompson, reportedly told his Belize story on a private message board and titled the whole thing, "Darkness Falls." Part one has been republished by Gizmodo:
This is a tale of intrigue and deception, involving great risks and dangers. Or, perhaps, it is a tale of paranoia in which innocuous events are misinterpreted by an unstable mind.

My mind.
It "starts about the time that I began living with five and a half women," McAfee writes, and of course there are photos. "The five and a half is really seven. But two of the women have committed relationships with men who also live with me. The two women are both my ex-lovers and one of the two still sleeps with me so I count her as a half." One of the women, he claims, was an assassin.