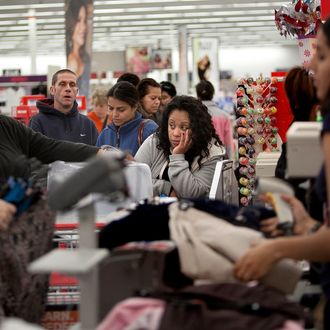 Even more holiday fun!
Photo: Allison Joyce/2012 Getty Images
Black Friday sales were down slightly this year, but that's actually bad news for those who believe that the day after Thanksgiving should be reserved for spending time with friends and family rather than ill-tempered fellow shoppers. According to the research firm ShopperTrak, sales on Friday were down 1.8 percent from last year, which is the first dip since the recession hit in 2008. However, that still amounts to a staggering $11.2 billion in sales, and the drop wasn't caused by Americans reeling in their spending. With retailers starting sales on Thanksgiving this year and extending deals through so-called Cyber Monday, the busiest shopping day of the year has been split into many pieces, and like a consumerism-crazed starfish, it's now poised to respawn into a multi-day event. Bill Martin, founder of ShopperTrak, told the New York Times, "What we're going to start looking at is the 'Black Weekend,' a four-day weekend."
A survey released by the National Retail Federation found that 247 million people shopped online and in stores between Thursday and Sunday, which is an increase of 9.2 percent over last year, according to the Associated Press. The amount people spent during Thanksgiving weekend also increased, with the average shopper spending $423, up from $398 last year.
Though specific sales figures aren't out yet for Thanksgiving, the survey found that there was a 21 percent jump in the number of people who shopped on the holiday, both in stores and online. Aside from stores opening their doors as early as 8 p.m. on Thursday, another factor driving up sales was Black Friday's spread onto the Internet. Online sales were up 17.4 percent on Thanksgiving and 20.7 percent on Black Friday, according to IBM. Plus, for the first time online sales topped 1 billion on Black Friday. Black Weekend may cement the idea that every holiday is just an excuse for a sale, but at least spreading the shopping online and over multiple days may reduce the risk of crowd-related injuries.