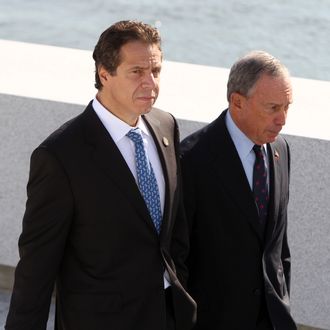 Cuomo and Bloomberg on October 17 at the FDR Park dedication.
Photo: Seth Wenig/AP
"Get me Bloomberg on the line, please."
Governor Andrew Cuomo's midtown-Manhattan office has sweeping views south and east. The most interesting sight at the moment, though, was Cuomo himself. After finishing a press briefing, the governor shed his navy-blue blazer and gray slacks for an urban version of desert fatigues: a tan polo shirt with an enormous customized state logo over his heart and matching tan pants and boots for a helicopter trip to devastated Breezy Point. It's the governor as action hero and calming authority figure, a role he's played since Hurricane Sandy hit New York. On Monday night, Cuomo got into an SUV driven by a state trooper and went storm chasing. "I wanted to see high tide," he said. "We start to go down the East Side—the East River is west of First Avenue! Then I was always worried about the ground-zero site. And that was truly frightening. There were no lights, and the sound of the water—the trooper who was with me said it was apocalyptic."
Two days later, the problem was gridlock. Cuomo's secretary said the mayor was on the phone. "Hello? Hiya, Mike. Add the Triboro. Thanks, Mike."
That's how it went all week between the governor and the mayor: collaboration and cooperation, with a minimum of fuss. But already a bit of tension was creeping back into the dynamic.
"Look, they got into trouble with the traffic," Cuomo said. "It's no trains, but it's the uncontrolled intersections with no personnel. He wants to limit it to all high-occupant. Which I think is actually a good idea. We have most of the bridges and tunnels, so he was asking would we do that along with him. That will help somewhat, the HOV." Cuomo paused. "Which he believes in anyway."
Andrew Cuomo, 54, and Michael Bloomberg, 70, are never going to be pals. They're too different in style and ambitions. But fortunately, Cuomo, Bloomberg, and their top aides rose to the occasion during one of the worst moments in local history, forging a relationship that might even last.
Monday night, as the governor was racing through the deluge, the mayor was at his post in the city's Office of Emergency Management past midnight. The flat-screen TVs ringing the room showed the hurricane sweeping into the coast, and a graph with something else truly ominous: the lower Manhattan storm surge rising to nearly fourteen feet. Three days earlier the mayor had begun evacuations; now, when he saw that the roads were still full of cars and the 911 system was inundated with 10,000 calls every 30 minutes, Bloomberg called a late-night press conference to sternly urge people to stay home and to use 311 for anything less than life-threatening.
Cuomo had already closed the subways, bridges, and tunnels, moving aggressively because Hurricane Irene didn't conform to predictions in 2011. "And from the mayor's point of view, I think that's why he was a little cautious. Because New York City was basically unscathed," Cuomo said. "I have a totally different recollection of Irene, because it devastated upstate. [The decisions to close transit systems] are all close calls. But all those calls were right."
The hurricane's aftermath will bring plenty of chances to disagree about everything. Cuomo talked of a wholesale reconfiguration of the city's infrastructure, and maybe levees. "It would have to be the state's leadership and responsibility," he said. Bloomberg finds the notion of the city building its way out of global-warming danger impractical, and he's sure to resist attempts by Cuomo to assert more power over city. This could devolve into the old squabble about turf. Or it could be a healthy debate about how to team up for the sake of New York's future.
That the relationship between the two men remains complex was vivid last Thursday inside the Brooklyn Battery Tunnel, a quarter of a mile in from the Manhattan tunnel entrance, where the shallow edge of the water was a stale greenish-brownish pool stretching into the inky darkness. The governor organized this "inspection" of the tunnel. Cuomo and Senator Kirsten Gillibrand were smiling for photographers, the water at their backs; they were joined by Homeland Security Secretary Janet Napolitano, MTA chairman Joe Lhota, Senator Chuck Schumer. Bloomberg paced out of camera range, his arms folded tightly across his chest. Schumer glanced around, spotting the mayor. "It's called a photo op," Schumer said with a grin. "After twelve years, you ought to know how it works." Bloomberg rolled his eyes and sidled up. Cuomo excitedly gestured. "Ahead of us is the belly of the tunnel," he said. "It gets deeper from here—a mile of water up to the ceiling, all the way to Brooklyn!"
Back outside, there was a press conference. Cuomo lavished praise on Bloomberg. The mayor stepped to the podium. "Governor, thank you. As Henry Kissinger would say, they have the added advantage of being true." It was Cuomo's turn to roll his eyes.
As Schumer spoke, the mayor and the governor walked away. Cuomo was nearly to his  car when he stopped suddenly and turned. He walked back to Bloomberg, and they shook hands. For now, anyway, they've become partners.