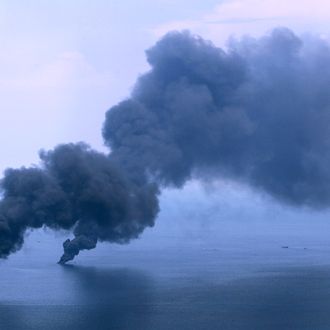 BP has agreed to plead guilty to criminal charges over the 2010 Deepwater Horizon spill and pay billions in the largest criminal fine of all time, the AP reports. Two BP employees will also face manslaughter charges for the explosion that killed eleven workers and ravaged the Gulf Coast in 2010. The settlement, while huge, won't be the end of the paying up BP has to do in order to leave this thing in the past.
Reuters reports that the guilty plea will mean no future criminal prosecution for the company, but only after they top Pfizer's benchmark of $1.3 billion, previously the largest criminal penalty in U.S. history. According to the AP, BP will plead guilty to obstruction for lying to Congress over how bad the spill was. The exact criminal charges have not been named, but in a recent filing, the Justice Department cited "reckless management" that "constituted gross negligence and willful misconduct."
If gross negligence is involved, that could run up the total that BP eventually owes in damages, civil claims, and fines under the Clean Water Act, the latter of which could hit $21 billion. From there, Reuters notes, it's time to divvy it up:
The massive settlement, which comes a week after the U.S. presidential election, could ignite a debate in the U.S. Congress about how funds would be shared with Gulf Coast states — depending on how the deal is structured. Congress passed a law last year that would earmark 80 percent of BP penalties paid under the Clean Water Act to the spill-hit states of Louisiana, Mississippi, Alabama, Florida and Texas.
That's the fun part.
Update: Today's settlement comes to $4.5 billion, to be paid in installments by BP, for 11 felony counts of misconduct.