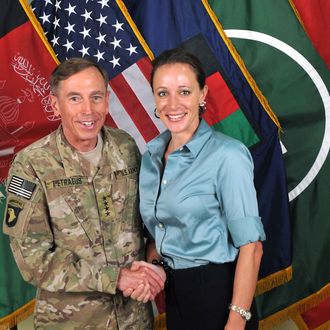 Since the
FBI
doesn't have time to launch a full-scale investigation into every mildly unsettling e-mail that winds up in Americans' inboxes, many have come to the conclusion that the messages Paula Broadwell allegedly sent to Tampa socialite Jill Kelley contained some pretty serious threats. However, if the Daily Beast's "knowledgeable source" is to believed, the Petraeus scandal actually started with e-mails that read more like something pulled from
Gossip Girl
, albeit with respected intelligence officials rather than sexy trust fund kids. The source, who was "until recently at the highest levels of the intelligence community,"
says
they didn't contain jealous warnings like, "stay away from my man," but were "More like, 'Who do you think you are? … You parade around the base … You need to take it down a notch.'" There was "No, 'I'll kill you' or 'I'll burn your house down,'" the source adds. (Interestingly, while this suggests the image of Broadwell as an
unhinged harlot
is an exaggeration, the source goes on to characterize the messages as "kind of cat-fight
stuff.")
So, why did the FBI bother to investigate the e-mails in the first place? The latest salacious detail to emerge in the rapidly unfolding story provides some possible insight. According to The Wall Street Journal's sources, the FBI agent friend who first heard Kelley's complaints about the e-mails is now under investigation by the agency for questionable conduct, including sending shirtless photos of himself to Kelley.
The Daily Beast's source says that when the FBI friend first showed the e-mails to fellow agents in the Tampa field office, they questioned if the matter was worth pursuing since there were no clear threats. It was a "close call," but they decided that the messages might constitute harassment and opened an investigation. The Journal reports that the agent was banned from taking part in the investigation over the summer after his supervisors started to worry that he'd become "obsessed" with the case. The October the same agent reportedly leaked information about the scandal to GOP Congressman Dave Reichert, who then told Eric Cantor. "I don't know if it would have taken this course without Cantor," said a person involved in the investigation.
Even after learning of the investigation, Petraeus initially had no plans to resign. Peter Mansoor, a retired Army colonel who served as Petraeus's executive officer in Iraq, tells the Washington Post, "Once he knew it was going to go public, he thought that resigning was the right thing to do. There is no way it would have remained private." Petraeus and Broadwell had attempted to keep their e-mails secret by saving them as drafts and then logging into each other's gmail accounts. The Associated Press notes that the trick is "known to terrorists and teenagers alike," so unsurprisingly it didn't fool FBI agents.
Petraeus was reportedly shocked when he learned about the harassing messages over the summer, and told Broadwell — via e-mail – to stop immediately. He told several associates that the sensitive military information found on Broadwell's computer must have come from other commanders she met in Afghanistan, and might have been declassified but still marked "secret." She's yet to be charged with a crime, but on Monday night six agents were spotted searching Broadwell's home in North Carolina. Neighbors and friends say Broadwell is staying at an undisclosed location with her family, and she's staying in touch via text and e-mail. "She's not attempting to defend herself," said David Bixler. "And it's not because of guilt. It's because she's afraid, like I would be, that anything she says can be twisted and used against her."