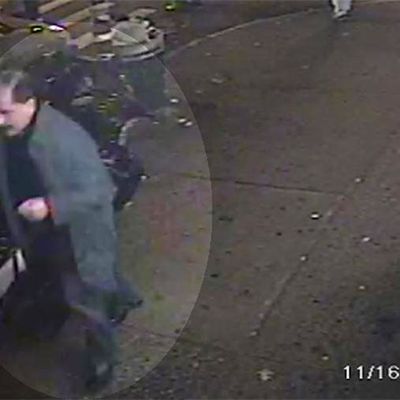 Although no one has officially been named a suspect in the serial killings of three Brooklyn shopkeepers with the same gun, the NYPD would like to have a word with the guy they're calling "John Doe Duffel Bag." J.D.D.B. happened to be spotted on surveillance footage near the most recent killing of 78-year-old Rahmatollah Vahidipour on Friday, and according to NBC New York, "was also seen on video near the second shooting in August." Now, maybe it's just a coincidence, but authorities are really hoping to speak with the mustachioed, tall, balding man carrying the black duffel bag, just to make sure.
"The possibility of a bias motive here is something that can't be excluded," said NYPD Commissioner Ray Kelly yesterday, noting that all three of the victims were Middle Eastern (two were Jewish and one was Muslim). "We're trying to put it together. We're talking to the FBI; we're doing an all-out effort to solve these murders."
Kelly also pointed to the possibility that the shootings were not quite random. "Here you have three stores where the proprietor is there by himself, no cameras in any of these," he said. "You'd have to speculate that some sort of reconnaissance was going on before the murders took place."
Each of the killings used the same .22-caliber gun; the bodies were found partially covered; and each of the store addresses contained the number eight. The first two victims were robbed, while Vahidipour was found with $171 left in his pocket.