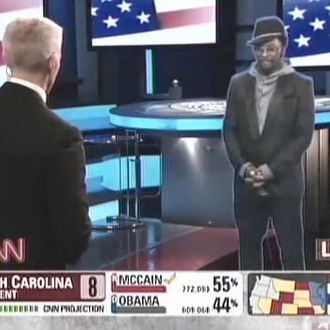 As memorable as the CNN holograms of will.i.am and Jessica Yellin from Election Night 2008 are, Anderson Cooper's "WTF" reaction is just as legendary. Amid the noise of exit polls and electoral math tomorrow, we're praying for some equally curious technological advancements, if only for levity, since we're not sure they get points across any clearer. With the potential for parody in mind, CNN will again be attempting to blow cable-news-addled minds, and it won't be alone.
Yesterday, the network previewed its "Virtual Senate" module, which looks like The Sims Go to Washington 3-D and features drop-down icons for hot-button issues:
As the Huffington Post notes, "The network hasn't unveiled all of the gadgetry it has planned for the big night. Presumably it's saving any of the robots or 3-D bouncing ballot boxes for showtime." The anticipation is killing us.
NBC News, meanwhile, has a social-media game plan that includes hot, new (and potentially useless) apps like Instagram and something called Zeebox, Mashable reports, all in the spirit of "experimentation." According to the network's vice-president of digital innovation Ryan Osborn, it goes beyond television to mobile devices: "We're looking at second screen on election night as a vehicle to let people see parts of our organization they haven't seen in the past, whether it's behind-the-scenes photos from 30 Rock or from our team stationed across the globe, or being able to push custom 'Zeetags' to people, allowing them to discover more data around a topic being reported."
For production wonks, MSNBC digital is planning "web-exclusive behind-the-scenes video from election headquarters including the MSNBC studios, Democracy Plaza sets, and the fan reaction at the 'MSNBC Experience,'" while Fox News will feature its touchscreen "bill-board," manned by Bill Hemmer. As usual these days, expect a lot of scrolling tweets, hashtag plugs, and online polls. Assume your eyes will be exhausted by 11 p.m.
On some networks, there will also be human interaction, the New York Times reports:
Reprising what it called "ballot cams" on primary nights, CNN will have crews at "key voting and vote-counting locations" in battleground states, [Washington bureau chief Sam Feist] said.

"We proved during the primaries that doing real reporting on those nights can make a difference," he said.
How quaint.