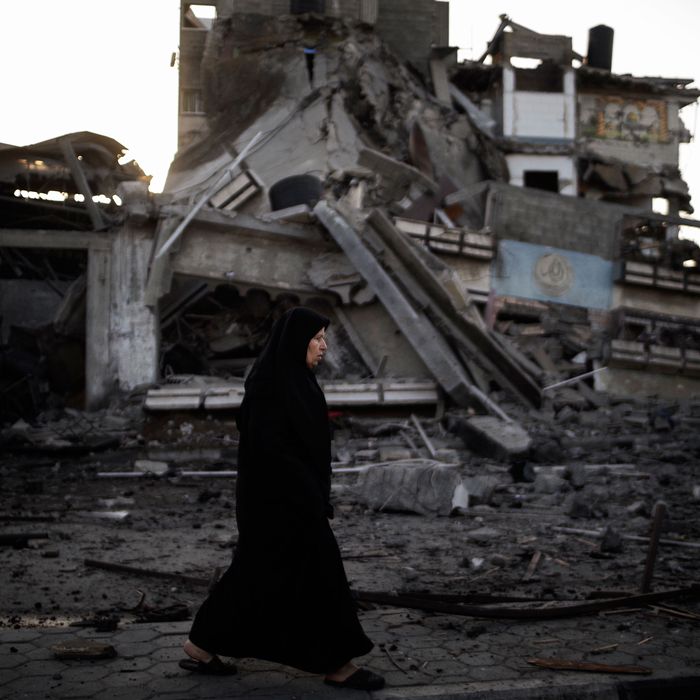 A woman walking past a bombed-out building in the Gaza Strip.
Photo: Marco Longari/AFP/Getty Images
The war between Israel and Hamas continued today, as Hamas fired another 90 rockets into Israel and Israeli targeted 100 sites in Gaza with air strikes and warned residents in certain areas of the Strip to leave their homes. After seven days, 115 Palestinians — a majority of them civilians, including over two dozen children — have been killed, as have three Israeli civilians. But now there are hopeful signs that the weeklong war could be ending, and soon.
After working the phones with Egyptian President Mohammed Morsi and Israeli Prime Minister Benjamin Netanyahu late into the morning, President Obama, from Asia, dispatched Secretary of State Hillary Clinton to the region — convinced "that he had to become more engaged and that Mrs. Clinton might be able to accomplish something," the Times reports. Meanwhile, after the Israeli cabinet met to consider its options, Prime Minister Benjamin Netanyahu released a statement expressing hope for a diplomatic solution to the conflict.
Such a solution could happen any time now, if Morsi is to be believed.
"President Mohammed Morsi announced that the farce of Israeli aggression against the Gaza Strip will end on Tuesday," MENA said, quoting public remarks made by the country's head of state after the funeral of his sister.

"The efforts to conclude a truce between the Palestinian and Israeli sides will produce positive results in the next few hours," he was quoted as saying.
Senior Israeli officials also reportedly believe a cease-fire is possible before Wednesday. The question is, as always, how long it will last.
Update, 12:04 p.m.: Though Hamas claims that a cease-fire has been reached, Israel denies it, and is reportedly "insisting on 24 hours of 'calm' before agreeing to a deal."