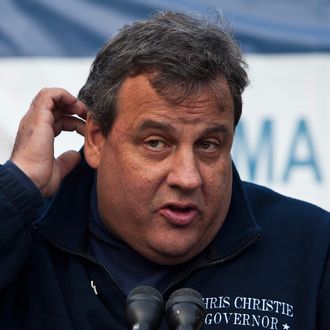 New Jersey Governor Chris Christie speaks at a joint press conference on November 4, 2012 in Hoboken, New Jersey. As New Jersey continues to clean up from Superstorm Sandy, worries are now growing for a new storm set to hit the state on November 7th.
Photo: Andrew Burton/Getty Images
The Christie-Obama bro-fest continued yesterday when the New Jersey governor, always quick with a kind word for Obama, called the president to congratulate him on his victory. Meanwhile, the person who Christie endorsed, stumped for, and allegedly voted for, Mitt Romney, received an e-mail. Paul Ryan probably got a text with a sad-face emoticon.