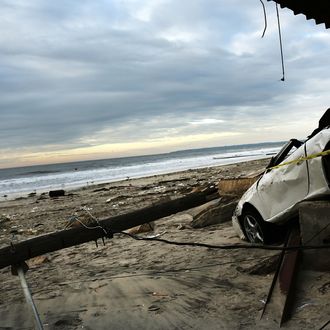 Photo: Spencer Platt/2012 Getty Images
The bill for Hurricane Sandy is coming, and it's not going to be a small one. In New Jersey alone, the storm cost an estimated $29.4 billion, according to Governor Chris Christie. In New York, Governor Andrew Cuomo said last week that Sandy cost New York about $33 billion. He didn't show his work.
While the damage is extensive throughout the Eastern Seaboard, recovery is actually expected to lead to an economic boost and reconstruction may eventually surpass the loss of business caused by the storm. According to Economic Outlook Group LLC in Princeton, "reconstruction and related purchases and hiring may range from $140 billion to $240 billion and add 0.5 percentage point to U.S. economic growth next year, assuming $50 billion in losses." According to Jeff Burchill of FM Global in Rhode Island, a natural disaster like Sandy leads to a lot of reconstruction and construction that otherwise wouldn't have happened. Call a team for the water removal, have them stay for the new kitchen and bath.

For John Cataneo of Gateway Plumbing & Heating in Manhattan, the recovery rebuilding already has 20 employees working overtime and they still can't seem to keep up with the demand. "We're just not getting to some people that are asking for help. But we're doing the best we can," he said.
Best news of all? Expect more Obama/Christie photo ops. The governor said, "I stand ready to work with our congressional delegation and the Obama administration to get the funding support New Jersey expects and deserves." We just hope he's wearing his blue fleece when it happens.