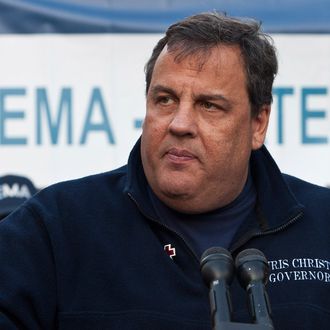 Photo: Andrew Burton/2012 Getty Images
Chris Christie has been effusive in his praise of President Obama in the last week, and in case this left anyone confused about his political allegiances, on Sunday he set out to clear up a few things. "I'm a Republican and I have endorsed Mitt Romney, I support him and I intend to vote for him on Tuesday," said the governor in an interview with Israel's Channel 2. Christie also shot down the idea that being a Romney surrogate means he can't thank Obama for his leadership during Hurricane Sandy "and to extend my hand of friendship to him."
"This shows you how broken our political system is," said Christie during a news conference. "Because I say something nice about someone who does their job well somehow that takes away my endorsement of Mitt Romney?" To further dispel rumors of a rift between Mitt Romney and the man who was reportedly his first choice for a running mate, on Sunday Romney gave Christie a shout out during a rally in Pennsylvania:
"Thanks also to the governor that are dealing with this tragedy, particularly I think about the governor of New Jersey, Governor Christie. He's giving it his all and his heart and his passion to help the people of his state. They're in a hard way, and we appreciate his hard work. Thank you, governor."
Apparently Romney understands that right now Christie is willing to cozy up to anyone who might be willing to help New Jersey, as he demonstrated on Twitter. The governor tweeted at an odd assortment of celebrities on Sunday, including Jay Mohr, Piers Morgan, and "Cake Boss" Buddy Valastro, asking for help promoting Hurricane Sandy relief efforts. He made a personal appeal to Justin Bieber:
Hopefully this won't be viewed as a snub by One Direction fans.