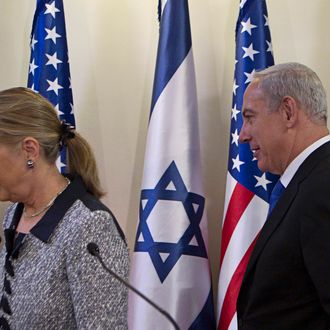 Clinton and Netanyahu leave the podium after delivering joint statements in Jerusalem.
Photo: Pool/2012 Getty Images
Though officials on all sides of the Gaza conflict suggested that a cease-fire might start at midnight on Tuesday, in the evening it became clear that the fighting would go on for at least another day, and likely longer. Both Israel and Hamas continued to fire as Hillary Clinton met with Israeli Prime Minister Benjamin Netanyahu on Tuesday night, leaving another 30 people dead at the end of the day. Five Israelis have died in the week-long conflict and officials say more than 130 people have died in Gaza, and about half were civilians. The New York Times reports that tens of thousands of Israeli troops have assembled on the border in preparation for the second ground invasion of Gaza in four years. It's less likely that Netanyahu will launch a ground invasion while Clinton is in the country working to end the crisis, but while welcoming her the prime minister stressed that Israel could still step up its attacks. "If there is a possibility of achieving a long-term solution to this problem through diplomatic means, we prefer that," said Netanyahu. "But if not, I'm sure you understand that Israel will have to take whatever actions necessary to defend its people."
Foreign diplomats said that they'd hammered out a tentative agreement for a cease-fire, but the plan fell apart over each side's long-term demands. Hamas is said to be pushing for an end to Israel's blockade of Gaza, which Israel says is necessary to keep weapons from flooding into the Strip. Israel wants an end to arms smuggling through tunnels between Gaza and Egypt, as well as guarantees from other nations that Hamas won't launch an attack from Egypt's Sinai region. Israeli spokesman Mark Regev told CNN that if the cease-fire is just going to be a "time out" that lets Hamas regroup, they aren't interested. "We want a new reality," in which Israelis don't face the threat of rocket fire from Gaza, said Regev.
Following her session with Netanyahu, Clinton's next stop was the West Bank for a meeting with Palestinian President Mahmous Abbas on Wednesday morning. Abbas doesn't actually have the power to call off attacks coming from Gaza, but the U.S. won't meet with officials from Hamas because it considers them part of a terrorist group. Next she'll head to Cairo to meet with Egypt's President Mohamed Morsi, who's been a key figure in the negotiations. Clinton said on Tuesday, "The goal must be a durable outcome that promotes regional stability and advances the security and legitimate aspirations of Israelis and Palestinians alike." It's unclear if her mission is just to get the nations to agree to a cease-fire, or if she'll stay in the region as the various parties try to work out a long-term agreement.