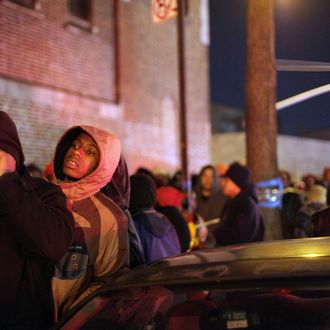 Waiting for fuel in Brooklyn.
Photo: Allison Joyce/2012 Getty Images
Last night, temperatures in New York dropped to 39 degrees, and Monday is expected to be even colder. To make matters worse, a nor'easter is scheduled to hit the area on Tuesday night. "The rain and combined wind will make it feel like near freezing," said AccuWeather's Brian Edwards of the storm, which is expected to produce 40 to 60 mile-per-hour winds and temperatures in the 30s and 20s. The 875,000 people still living without electricity in the New York area are understandably terrified. "It's cold, very cold, especially at night," a woman from Great Kills, Staten Island told SILive. "It's hard to deal with." A woman in Howard Beach, Queens was more blunt with the New York Post: "I don't think we will be able to survive here," she said. 
On Saturday evening, Mayor Bloomberg — who received an earful from suffering Far Rockaway residents earlier in the day — acknowledged the growing problem. "I spoke with many people who were worried and frustrated and cold. There is no power there and temperatures are dropping. Even those who have generators are having a hard time getting fuel." He went on to instruct those without electricity to get themselves one of the city warming shelters set up in powerless neighborhoods. (The city is also distributing 25,000 blankets to those who insist on staying in their unheated homes.) "Please, I know sometimes people are reticent to take advantage of services," Bloomberg said. "But the cold really is something that is dangerous."
In press conference with Governor Andrew Cuomo on Sunday, the mayor reiterated his warnings on Sunday morning, and urged citizens vulnerable to the weather — particularly the elderly and the very young — to watch out for hypothermia. Cuomo also pointed out that up to 40,000 public housing residents were now homeless, with their buildings left "uninhabitable" by Sandy. "This is going to be a massive, massive housing problem," he said. "You are going to need a number of options for a number of situations, short-term and long-term." For now, it seems, the city just needs to find a way to keep people warm.