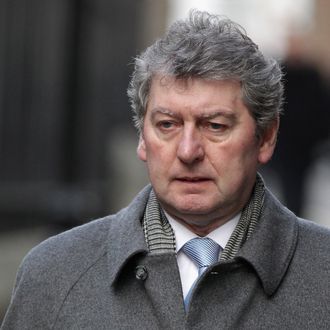 Photo: Oli Scarff/Getty Images
The coverage of Lord Justice Leveson's inquiry into phone hacking by the British press, released on Thursday, have focused on its findings of pervasive misdeeds, especially at Rupert Murdoch's now-defunct News of the World, and its recommendation that a powerful new government watchdog is necessary to prevent future abuses. Lost somewhat in that are Leveson's conclusions about the ethical lapses of Colin Myler, currently editor in chief of the New York Daily News, who served as editor of NOTW as the paper began its death spiral. Myler was not at the paper when it engaged in phone hacking, but was brought on board in 2007 as the scandal was expanding. According to Rupert Murdoch, Myler was there to "find out what the hell was going on." Myler disputed his ex-boss's account, claiming that "he simply understood his role as being to edit the paper."
Still, Myler professed to being uneasy about what might be lurking in the paper's recent past. "I felt that there could have been bombs under the newsroom floor and I didn't know where they were and I didn't know when they were going to go off," he testified.
Rather than defuse them, the report suggests he aided the cover-up. "He vigorously and forcefully followed a line which, to pursue the analogy of a bomb under the newsroom floor, simply ignored his privately held fear of an impending explosion," Leveson concluded. "Although … it may have been difficult or embarrassing, he did little to assuage his own 'discomfort' except lay down rules for the future."
The report also characterizes Myler's testimony as "hardly persuasive," "unconvincing," and causing "serious concern."
"I've worked with Colin Myler for a year, I think he's an outstanding editor, operated the newspaper with great abilty and complete integrity," said Daily News owner Mort Zuckerman. "I have every confidence in him." In Myler's short tenure — he arrived in in January, 2011 — he has infused the paper with energy and drive, relishing the competition against Col Allan, his former mentor and editor of the Post. Zuckerman will no doubt continue to ignore the murky recent chapters in Myler's past. As every newspaperman knows, the public's attention span is very short.
This post has been updated with comment from Zuckerman.