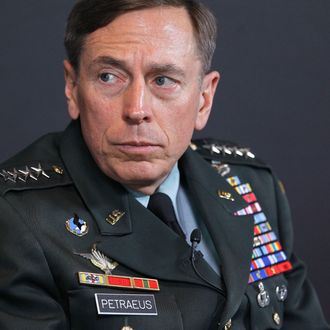 Disgraced former CIA chief David Petraeus is sticking to handwritten letters after his e-mail habits, along with those of his lover/biographer Paula Broadwell, hurried along the crumbling of his career. "I screwed up royally," Petraeus reportedly wrote to his friend, retired Brigadier General James Shelton, in a longhand apology note that just happened to make its way to the press. "I paid the price (appropriately) and I sought to do the right thing at the end of the day." And thus, the public apology tour begins.
"Team Petraeus will survive though [I] have obviously created enormous difficulty for us," the retired four-star general wrote in the letter dated November 20. He added that his wife Holly "is, however, once again demonstrating how incredibly fortunate I was to marry her." Petraeus signed the missive "ATW," for the parachutists' phrase "All the Way."
"It means, 'I'm going to give it everything I got.' That's David Petraeus," Shelton told the New York Post. "All the way. I can't say that enough." (Not to be confused with All In, the title of Broadwell's commercially available Petraeus love letter.) Like a loyal bro, Shelton blamed the affair on Broadwell and referred to Petraeus as naive, caught up in the snare of her charms. "He's a man, and all men have an Achilles' heel," Shelton said, shamelessly.
The scandal's other other woman, Jill Kelley, who kicked off the investigation with the help of an FBI pal, has no apologies. In fact, she's thinking about suing the U.S. government for leaking her name to the media, The Daily reports. "These leaks most certainly had to come, at least in part, from government sources," said a Florida attorney approached by the Kelley family. "As you know, there are several rules and laws that seek to protect United States citizens against such leaks. Among these is the Privacy Act."
If it's damages she's after, a settlement could help with the Kelleys' financial woes, while a new layer helps make certain this story will never die.