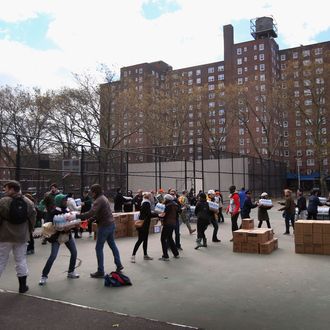 Photo: John Moore/2012 Getty Images
It may be beautiful in New York City today, but it won't be for long, and with the winter most likely comes a "second surge" of Hurricane Sandy homeless. To prepare for those who may be holding strong for now but will eventually need heat and hot water, the government is looking to local landlords and hoping for their generosity, according to the New York Times. "You really need to help out," the Secretary of Housing and Urban Development reportedly told real-estate executives at a meeting last week. After which, we imagine, there were a lot of sideways glances.
The tentative plan is to create "a clearinghouse that would match displaced families with vacant apartments," but there are a few issues. First and foremost, vacancy rates across the city are already extremely low, and many building owners have been stretched thin by the storm. Then, of course, there's the money:
In the New York area, FEMA provides about $1,800 a month in rental assistance for up to 18 months. That would cover most housing in Brooklyn and Queens, but developers said it would fall short of covering many units in Manhattan.
Those being asked to sacrifice also want to hammer out legal details regarding what would happen to their bottom line in the case of damage or eviction. "People want to do the right thing," said Manhattan landlord Charles Dorego. "But they don't want to inherit a pig in a poke." In other words: We would love to, but do we have to?