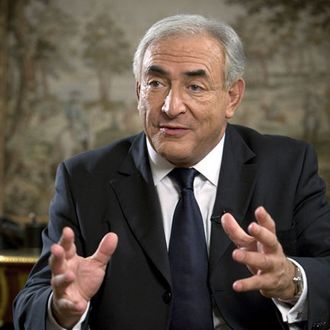 Photo: Handout/2007 Getty Images
Dominique Strauss-Kahn has unsuccessfully tried to get the New York civil case against him thrown out on the grounds of diplomatic immunity, and being "impermissably vague," but he's finally decided to settle and be done with it, reports the New York Times. The agreement he's worked out with Sofitel Hotel maid Nafissatou Diallo, who accused him of sexually assaulting her in May 2011, still sounds a little tentative, with none of the attorneys involved commenting on the record just yet. 
Both the Times and the Associated Press cited only "people with knowledge of the matter," and reported that neither side had yet signed the settlement, which Bronx Supreme Court Judge Douglas McKeon reportedly facilitated.
French media reports put the settlement at $6 million, which would presumably include Strauss-Kahn dropping his $1 million defamation countersuit.
But it's still possible something could go askew before their scheduled court date next week. After the sexual assault prosecution against the one-time French presidential hopeful broke down, we've learned to expect the unexpected in this case.
Update: Lawyers for Strauss-Kahn say the deal is not done. "Media reports that Dominique Strauss-Kahn has agreed to pay $6 million to settle the civil case are flatly false," they said in a statement released Friday afternoon. "The parties have discussed a resolution but there has been no settlement. Mr. Strauss-Kahn will continue to defend the charges if no resolution can be reached."