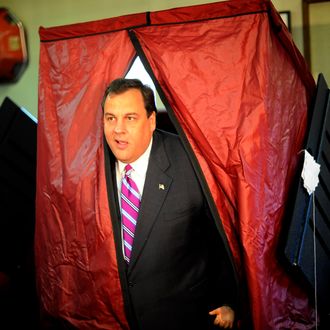 Photo: Stephen Chernin/2009 Getty Images
From hanging chads to inconclusive local races, election problems have been known to happen even in the best of circumstances. Next week we'll try an unprecedented feat in American politics: holding an orderly presidential election about a week after a natural disaster has hit. Chris Christie has refused to discuss voting plans, saying he's "much more concerned about preventing any other loss of life, getting people to safe places," and, "the election will take care of itself." However, with only four days to go, officials in states badly hit by Hurricane Sandy are being forced to make decisions on how to hold an election in communities where residents have been displaced and there's still no electricity.
Officials in New York, New Jersey, and Connecticut have asked power companies to concentrate on bringing electricity back to polling places first, but they aren't betting on that. ''Some of the voting machines do have battery backup,'' New York State Board of Elections spokesman Tom Connolly told the Associated Press. ''We are also planning to get generators to polling sites, but it's not like we have an unlimited supply of generators.'' In New York City members of the Board of Elections have been assessing the damage to polling places, and Mayor Bloomberg said they might have to use alternative locations in some cases. The Daily News reports that in devastated areas like Breezy Point and the Rockaways, voting may take place in tents equipped with generators.
While Christie has been occupied by relief efforts, in New Jersey Secretary of State and Lt. Gov. Kim Guadagno said on Thursday that the state is planning to deploy military trucks to polling stations that have lost power. Guadagno said people at these locations will vote using a paper ballot and should expect to see "a DOD truck with a well-situated National Guardsman and a big sign saying, 'Vote Here.'" For those seeking a less exciting voting experience, the state extended applications for mail-in ballot applications and ordered county clerks' offices to stay open over the weekend to process them.
Since the states hit hardest are all solidly blue, lower voter turnout won't swing the presidential election, though it could affect the popular vote. Though, if votes are being collected in tents and trucks in the middle of a nor'easter, there's no telling what might happen.