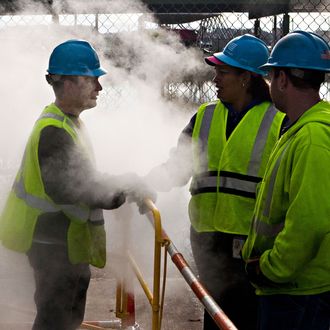 John Shammah, a Con Edison employee, speaks to co-workers while working on a steam pipe on First Avenue on October 31, 2012 in New York City. Residents and businesses across the eastern seaboard are attempting to return to their daily lives and normal operations as clean-up from Hurricane Sandy continues.
Photo: Andrew Burton/Getty Images
Though Manhattan residents can look forward to electricity this weekend, and the majority of city residents will see power return within the next ten days, "a small portion" of Con Ed's customers "may not have electricity again until late November," the utility company said today, without elaborating on who or where. So much suspense! Tune in next week to find out who the next contestants will be on The Worst Month of Your Life!