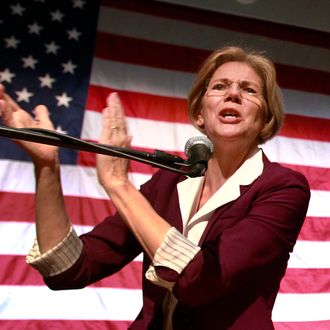 Ninety-nine percent favorite Elizabeth Warren will be the new senator from Massachusetts, according to projections from NBC and Fox News, replacing Republican short-lived incumbent Scott Brown, who won a special election in 2010. The headline-grabbing race for Ted Kennedy's traditionally blue seat set records for campaign spending and may have inspired a historic turnout, resulting in the first female senator for the state in its history. Warren, a former Harvard professor, made a name for herself as an advocate for consumer rights, serving as chair to the Congressional Oversight Panel on the Troubled Asset Relief Program, and helping to found the Consumer Financial Protection Bureau. Warren, who led the tight race by a few points going into Election Day, was beating Brown 52 percent to 48 percent as of 9:30 p.m., with 17 percent of precincts reporting.
Warren's beliefs have been aligned closely with, and cited as inspiration for, the Occupy Wall Street movement, and she continually slammed Brown for his cozy relationship with the financial industry. "Now look, you built a factory and it turned into something terrific, or a great idea. God bless — keep a big hunk of it," Warren has said, previewing a similar line from Barack Obama that was twisted with glee by Republicans. "But part of the underlying social contract is, you take a hunk of that and pay forward for the next kid who comes along."
Brown, as much of a moderate as his party has, worked as the race came to a close to distance himself somewhat from national Republicans, claiming in a debate, "I don't work for anybody. I don't work for President Obama, or Mitt Romney, or Mitch McConnell, or Harry Reid. I work for the people of Massachusetts." He also kept competitive with Warren by attempting to paint her as an elite academic and questioning her claims about having Native American heritage.
As a strong opponent of Wall Street, Warren jumps instantly onto the national stage and — before she serves a moment in office — extremely premature speculation about a presidential run in 2016. No pressure.