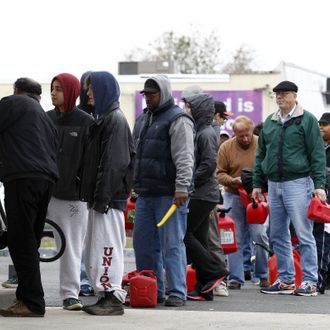 Ugh, this gas shortage is the pits. With power coming back in more of the region and the subways finally getting mostly back online, it seems like those who didn't actually lose their houses to the storm should be seeing life starting to return to something approaching normal. On Thursday, however, Mayor Michael Bloomberg announced New York would start rationing gas sales, and said we'd be facing shortages "for the next few weeks." Between damaged infrastructure, inconsistent power, and poor advance planning, the fuel crisis looks like it's got some staying power. Here's why we're still lining up for gas:
Damaged refineries and terminals squeeze supply. Gas comes to your local station via truck from large terminals and refineries in places like Port Reading and Linden, N.J., home to the Bayway refinery, the region's most productive. "That refinery was among those badly damaged by floodwaters, halting its 238,000 barrels-per-day output," the New York Daily News reports. "Eight of the 57 terminals in Sandy's path were still shuttered Thursday and the Department of Energy noted in a weekly report that refinery productivity in the region had dropped from 81% to 58.5%." The New York Times reported that "Industry executives said that as many as 20 regional terminals were still not operating, and that work to repair them had been slowed by the snowstorm and could take weeks to complete. They also cited continuing disruptions in barge traffic to docks in Brooklyn and on Long Island for distribution of gas to stations around the area."

The Nor'easter hindered power already reduced by Sandy. "Some gas stations with a supply remain without power and therefore can't operate pumps. Several damaged refineries say flooding to electrical systems knocked work offline," the Daily News reported. At one terminal, "a worker told PIX 11 News that they had lost power once again Wednesday night when the nor'easter blew through. Less than 24 hours later, the Army Corp of Engineers was on the scene along with other officials as they tried to get the terminal off of generator power."

We apparently had no real emergency plan for this. "Well there should have been but the state doesn't have one," Ralph Bombardiere, the executive director of the New York State Gasoline Automotive Services Association, told WPIX: "In the days following Hurricane Sandy, Bombardiere dealt with Governor Cuomo along with his office in addressing the fuel crisis. According to Bombardiere, there were no plans in place for a fuel crisis."
Panic buying increases demand. Gov. Andrew Cuomo has been warning against panic buying, pointing out in a news conference Thursday, "Right now in some areas, we're buying more gasoline than any usual consumption pattern because people want a full tank of gas always, because they're nervous, and I understand that, but that is actually compounding the situation."
New York City is particularly squeezed. Only about a quarter of the city's gas stations and a third of those on Long Island even have gas, and the huge demand means they run out quickly and have to refuel more often. Lines at the fuel terminals are just as bad as those at the stations, so that means more waiting all around. "When there are infrastructure problems such as what occurred with Sandy, there are few alternatives available," petroleum analyst Gregg Laskoski told the Times. At least the L Train is back.