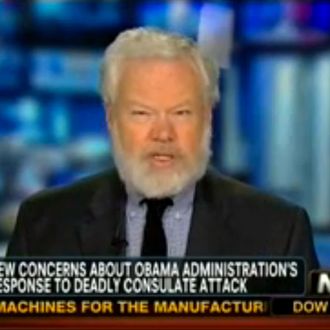 When the journalist Tom Ricks went rogue on Fox News yesterday, calling the network "a wing of the Republican Party," his segment was promptly ended. Instead of letting that be the end of it, Fox News exec Michael Clemente has insisted on defending his channel's honor, thus dragging out the feud, telling The Hollywood Reporter, "When Mr. Ricks ignored the anchor's question, it became clear that his goal was to bring attention to himself — and his book. He apologized in our offices afterward but doesn't have the strength of character to do that publicly." Ricks, who does indeed have a new book to promote, gladly hit back.
"Please ask Mr. Clemente what the words of my supposed apology were. I'd be interested to know," he said. "Frankly, I don't remember any such apology." Ricks told Politico, "Clemente is making it up … Because their MO is that when the facts aren't on their side, they attack the person."
In round three, Clemente called out The Generals author's "utter dishonesty" in a statement to TV Newser. "I'll refresh his memory — what he said following the segment was, 'Sorry … I'm tired from a non-stop book tour,'" the Fox VP of news said, all but guaranteeing Ricks another response and a few appearances on MSNBC. "Perhaps now he can finally get some rest." Or at least sell some books.